The Wes Anderson Collection: The Grand Budapest Hotel (Hardcover)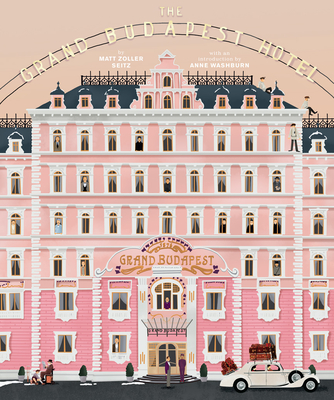 $40.00

Usually Ships in 1-5 Days
Description
---
This book, part of the New York Times bestselling The Wes Anderson Collection series, takes readers behind the scenes of the Oscar®-winning film The Grand Budapest Hotel with a series of interviews between writer/director Wes Anderson and movie/television critic Matt Zoller Seitz.
Introduction by award-winning playwright Anne Washburn
Learn all about the film's conception, hear personal anecdotes from the set, and explore the wide variety of sources that inspired the screenplay and imagery—from author Stefan Zweig to filmmaker Ernst Lubitsch to photochrom landscapes of turn-of-the-century Middle Europe. Also inside are interviews with costume designer Milena Canonero, composer Alexandre Desplat, lead actor Ralph Fiennes, production designer Adam Stockhausen, and cinematographer Robert Yeoman; essays by film critics Ali Arikan and Steven Boone, film theorist and historian David Bordwell, music critic Olivia Collette, and style and costume consultant Christopher Laverty; and an introduction by playwright Anne Washburn. Previously unpublished production photos, artwork, and ephemera illustrate each essay and interview.
The Wes Anderson Collection: The Grand Budapest Hotel
stays true to Seitz's previous book on Anderson's first seven feature films,
The Wes Anderson Collection
, with an artful, meticulous design and playful, original illustrations that capture the spirit of Anderson's inimitable aesthetic, offering an overview of Anderson's filmography.
Praise for The Wes Anderson Collection:
"The Wes Anderson Collection comes as close as a book can to reading like a Wes Anderson film. The design is meticulously crafted, with gorgeous full-page photos and touches."—The A.V. Club
Also available from Matt Zoller Seitz:
The Wes Anderson CollectionThe Wes Anderson Collection: Bad DadsThe Oliver Stone ExperienceMad Men Carousel
Also available:
The Wes Anderson Collection: Isle of DogsThe Wes Anderson Collection: The French Dispatch
About the Author
---
Matt Zoller Seitz, a finalist for the Pulitzer Prize in criticism, is the TV critic for New York Magazine and Vulture.com, as well as the editor in chief of RogerEbert.com.

A Brooklyn-based writer and filmmaker, Seitz has written, narrated, edited, or produced more than a hundred hours'worth of video essays about cinema history and style for the Museum of the Moving Image and The L Magazine, among other outlets. His five-part 2009 video essay, "Wes Anderson: The Substance of Style," was later spun off into a New York Times bestselling hardcover book series: The Wes Anderson Collection (Abrams, 2013) and The Wes Anderson Collection: The Grand Budapest Hotel (Abrams, 2015).

Seitz is the founder and original editor of the House Next Door, now a part of Slant Magazine, and the publisher of Press Play, a blog of film and TV criticism and video essays. He is the director of the 2005 romantic comedy Home.

Anne Washburn's plays include Mr. Burns, The Internationalist, A Devil at Noon, and a transadaptation of Euripides's Orestes. She lives in New York City and, occasionally, Buenos Aires.
Praise For…
---
"Eye-popping!"
— New York Times Book Review

"A rare follow-up that equals its predecessor, and a welcome post-script from the critic who's become the definitive voice on all things Anderson."
— Flavorwire

"Like Anderson's work itself, this book's visuals will have you coming back to it again and again."
— Boston Globe

"More than a companion piece to the previous book—it's a veritable companion, to be taken along on exotic trips, and to be talked to when nobody is looking."
— Philadelphia Inquirer