The Wes Anderson Collection: Isle of Dogs (Hardcover)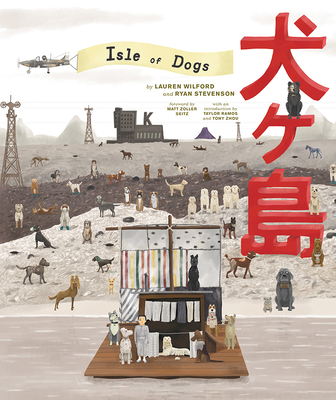 $35.00

Usually Ships in 1-5 Days
Description
---
The Wes Anderson Collection: Isle of Dogs takes readers behind the scenes of the beloved auteur's stop-motion animated film.

Foreword by movie/TV critic Matt Zoller Seitz
Introduction by Every Frame a Painting video essay series cocreators Taylor Ramos and
Tony Zhou

Through the course of several in-depth interviews with film critics Lauren Wilford and Ryan Stevenson, writer and director Wes Anderson shares the story behind Isle of Dogs's conception and production, and Anderson and his collaborators reveal entertaining anecdotes about the making of the film, their sources of inspiration, the ins and outs of stop-motion animation, and many other insights into their moviemaking process. Previously unpublished behind-the-scenes photographs, concept artwork, and hand-written notes and storyboards accompany the text.

The fourth volume of the New York Times bestselling Wes Anderson Collection, Isle of Dogs stays true to the series with its rich design and colorful illustrations, capturing Anderson's signature aesthetic vision with the series' definitive study of the director's filmography.

Isle of Dogs tells the story of Atari Kobayashi, 12-year-old ward to corrupt Mayor Kobayashi. When, by Executive Decree, all the canine pets of Megasaki City are exiled to a vast garbage dump called Trash Island, Atari sets off alone in a miniature Junior-Turbo Prop and flies across the river in search of his bodyguard-dog, Spots. There, with the assistance of a pack of newly found mongrel friends, he begins an epic journey that will decide the fate and future of the entire Prefecture.

The film features the voices of Bryan Cranston, Koyu Rankin, Edward Norton, Bob Balaban, Bill Murray, Jeff Goldblum, Kunichi Nomura, Akira Takayama, Greta Gerwig, Frances McDormand, F. Murray Abraham, Tilda Swinton, Akira Ito, Yoko Ono, Mari Natsuko, Harvey Keitel, Courtney B. Vance, Ken Watanabe, Scarlett Johansson, Fisher Stevens, Nijiro Murakami, and Liev Schreiber.

Also Available:
The Wes Anderson Collection
The Wes Anderson Collection: Bad Dads
The Wes Anderson Collection: The Grand Budapest Hotel
The Wes Anderson Collection: The French Dispatch
About the Author
---
Lauren Wilford
is a film writer based in Providence, Rhode Island. She is a senior editor at
Bright Wall/Dark Room
, an online magazine with offbeat, deeply human takes on film. Her bylines appear there and at RogerEbert.com,
VICE
, and
Christianity Today.
She is based in Providence, Rhode Island
Matt Zoller Seitz
, a finalist for the Pulitzer Prize in criticism, is the TV critic for
New York Magazine
and Vulture.com, as well as the editor in chief of RogerEbert.com.
A Brooklyn-based writer and filmmaker, Seitz has written, narrated, edited, or produced more than a hundred hours'worth of video essays about cinema history and style for the Museum of the Moving Image and
The L Magazine
, among other outlets. His five-part 2009 video essay, "Wes Anderson: The Substance of Style," was later spun off into a
New York Times
bestselling hardcover book series:
The Wes Anderson Collection
(Abrams, 2013) and
The Wes Anderson Collection: The Grand Budapest Hotel
(Abrams, 2015).
Seitz is the founder and original editor of the House Next Door, now a part of
Slant Magazine
, and the publisher of Press Play, a blog of film and TV criticism and video essays. He is the director of the 2005 romantic comedy
Home
.
Max Dalton is a graphic artist living in Buenos Aires, Argentina, by way of Barcelona, New York, and Paris. He has published a few books and illustrated some others, including The Wes Anderson Collection: The Grand Budapest Hotel (Abrams, 2015). Max started painting in 1977, and since 2008, he has been creating posters about music, movies, and pop culture, quickly becoming one of the top names in the industry.