The Emerald Mile: The Epic Story of the Fastest Ride in History Through the Heart of the Grand Canyon (Paperback)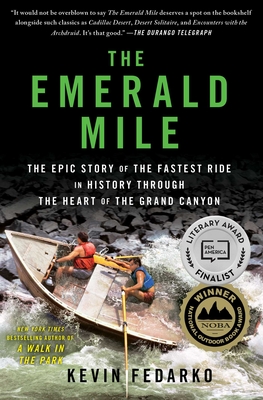 $19.99

Usually Ships in 1-5 Days
Description
---
From one of Outside magazine's "Literary All-Stars" comes the thrilling true tale of the fastest boat ride ever, down the entire length of the Colorado River and through the Grand Canyon, during the legendary flood of 1983.

In the spring of 1983, massive flooding along the length of the Colorado River confronted a team of engineers at the Glen Canyon Dam with an unprecedented emergency that may have resulted in the most catastrophic dam failure in history. In the midst of this crisis, the decision to launch a small wooden dory named "The Emerald Mile" at the head of the Grand Canyon, just fifteen miles downstream from the Glen Canyon Dam, seemed not just odd, but downright suicidal.

The Emerald Mile, at one time slated to be destroyed, was rescued and brought back to life by Kenton Grua, the man at the oars, who intended to use this flood as a kind of hydraulic sling-shot. The goal was to nail the all-time record for the fastest boat ever propelled—by oar, by motor, or by the grace of God himself—down the entire length of the Colorado River from Lee's Ferry to Lake Mead. Did he survive? Just barely. Now, this remarkable, epic feat unfolds here, in The Emerald Mile.
About the Author
---
Kevin Fedarko has spent the past twenty years writing about conservation, exploration, and the Grand Canyon. He studied Russian history at Oxford before joining the staff at Time, where he worked primarily on the foreign affairs desk, then later moved to Outside, where he was a senior editor. His writing has appeared in National Geographic, The New York Times, and Esquire, among other publications, and a trio of his adventure stories from the Himalayas, the Horn of Africa, and the Colorado River are anthologized in The Best American Travel Writing. Fedarko is the author of The Emerald Mile: The Epic Story of the Fastest Ride in History Through the Heart of the Grand Canyon, a New York Times bestseller that won the National Outdoor Book Award and the Reading the West Award. He lives and works in Flagstaff, Arizona.
Praise For…
---
"Kevin Fedarko's new brilliant work... is the story about wilderness and the American mind, albeit an American mind juiced on Class V adrenaline... Perhaps because we sympathize so strongly with the characters of The Emerald Mile--thanks in no small part to Fedarko's flowing prose--you'll feel yourself lurching along with them on wooden boats, in ocher-hued canyons, beneath cobalt skies, into the frenzied thrashings of the Colorado river as the very lanscape of the West attempts to choke it."
— Mountain magazine

"The book is at its heart an engrossing meditation on the eternal struggle between man and nature."
— Pittsburg Post-Gazette

"Kevin Fedarko's remarkable The Emerald Mile re-creates an incredible voyage through the flood-swollen Grand Canyon in such heart-pounding detail that you need to pause every few pages to catch your breath... He writes so vividly that your favorite reading chair becomes a spray-soaked perch on a bucking boat hit hard by a river running high and fast."
— Dallas Morning News

"Crafting a tale as graceful and powerful as the natural wonder of which he writes... the books goes beyond your typical river porn, offering a wide appeal to everyone from history buffs and the Popular Mechanics set to environmentalists and outdoor enthusiasts. In fact, it would not be overblown to say The Emerald Mile deserved a spot on the bookshelf alongside such enduring classics as Cadillac Desert, Desert Solitaire and Encounters with the Archdruid. It's that good...Fedarko will have you posied on the edge of your seat like a high-sider at in Lava Falls."
— Durango Telegraph

"His poetic and descriptive writing should only brighten his accolades and helps his non-fiction book read like a fast-paced fiction adventure...It isn't necessary to be a history buff or whitewater expert to enjoy this story... With meticulous research, notes and epilogue, Fedarko tells a satisfying story that is quite an entertaining ride."
— Deseret News

"The Emerald Mile is the rarest of creations–a magical convergence of words and paper, wood and water, rock and sky, human character and cosmic caprice. Can an adventure story be as beautiful as it is heart-stopping and exciting? This one is, and Fedarko's book is as inspiring as a dory itself, flying down a wild river. I have no doubt it will become an instant classic, a timeless chronicle of what can still be legitimately called the American spirit."
— Bob Shacochis

"Fedarko's effortlessly engaging narrative... is a labor of passion from an adventurous journalist who still calls the Grand Canyon home."
— Boulder Weekly

"Powerful and poetic passages put readers inside the adventurers' boats, even if they have only ever imagined the Grand Canyon or seen it in pictures... an epic-sized true-life adventure tale that appeals to both the heart and the head."
— Kirkus

"Kevin Fedarko's magnificent book covers a lot of ground -- and water... So it is a great boon of Fedarko's book that he tells the story of the dam, and of the engineers and techinicians who built it... with as much respect and homage as he gives to the dorymen."
— Cleveland Plain-Dealer

"Grua's wild ride on the Colorado, how it mirrored his mercurial personality, is just on part of Fedarko's story; however, the rive, which runs through seven states, and the canyon, rich in both geological and political history, prove to be the real protagonists."
— Publisher's Weekly

"From the bottom of our planet's most awesome landscape, Kevin Fedarko has found and rescued a great American tall tale that just happens to be true. As a boatman, Fedarko knows this world intimately. As a writer, he'll make you understand it, savor it, and ultimately love it as you never have before. Here is an instant classic of adventure literature—a story shot through with bravura but also touched by the rarest kind of grandeur."
— Hampton Sides