The Developing Mind, Second Edition: How Relationships and the Brain Interact to Shape Who We Are (Paperback)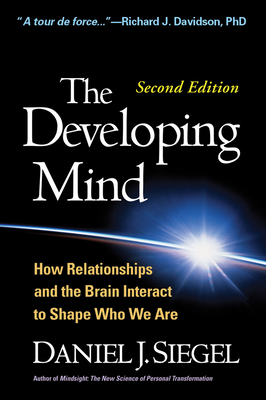 Description
---
This book has been replaced by The Developing Mind, Third Edition (ISBN 978-1-4625-4275-8).
 
Praise For…
---
.
"Fulfilled my wildest expectations. Instead of laboriously struggling to learn about neurobiology, I found myself fairly effortlessly assimilating information because 1) the author is able to present his material in the context of interpersonal relationships in general and the treatment dyad in particular, and 2) the author is a master of lucidity, avoids pedantry, and succeeds in making his data clinically useful."(on the first edition)
— American Journal of Psychiatry
"I knew that this book was one I should keep handy when I wanted to improve my understanding of information on which the future science of psychiatry will be based."(on the first edition)
— Journal of Clinical Psychiatry
"A remarkable book....The Developing Mind boldly transcends the reductionism that characterizes so much of contemporary psychiatry." (on the first edition)
— Psychiatric Times
"Daniel Siegel skillfully navigates readers through the disquiet of fatalism and destiny toward hope and understanding of how our neurobiology is shaped by our society and how we in turn shape our society….Siegel provides a well-integrated thesis on the developing mind and leads the reader from an understanding of the neuron and neuronal networks to the development of social meaning and the social experience within the context of neurobiology. He summarizes and synthesizes contemporary research and knowledge on the development of the mind in a manner that encourages further exploration. In-depth exploration is encouraged by the excellent citations.
The Developing Mind
is an outstanding addition to the library of those who are interested in how the mind develops, and it is likely to become a well-thumbed reference over the years."
— PsycCRITIQUES
"The story Siegel tells is indeed fascinating, essentially describing the transactional processes that happen at the interface between developmental neurobiology and the environment of an individual. He links every level of the system from cell chemistry to brain architecture, to caregiver-infant attachments, to interpersonal relationships in adulthood....This is a book to stimulate, illuminate, and drive our understanding of human developmental processes forwards and I suspect that The Developing Mind will be seen as a milestone work in the future." (on the first edition)
— Journal of Child Psychology and Psychiatry
"Why can't we remember what we did at age three? Why are some children unusually shy? What is the biochemistry of humiliation , and how can it be 'toxic to the developing child's brain'? New and plausible answers to these questions emerge from Siegel's synthesis of neurobiology, research psychology and cognitive science....His subjecthow we become the people we aredeserves to hold many readers spellbound." (on the first edition)
— Publishers Weekly
"Brilliant....It should probably not be read at one sitting, but sifted slowly as you would a 20 year old port....This is not just a book for bright psychiatric residents or child fellows, but child psychiatrists young and old, overworked or underpaid. It offers a glimpse of new horizons in the profession." (on the first edition)
— Canadian Child Psychiatry Review
"Current, thorough, closely argued....One of Siegel's major gifts is for presenting anatomical, neurological, research, and clinical information while still pointing out what remains unknown. He explores infant-parent relationships, emotions, states of mind, and how knowing about them can help one improve one's relationships and capabilities for developing successfully." (on the first edition)
— Booklist
"Readable, thoughtful, and informative." (on the first edition)
— Educational Leadership
"Recommended. Graduate students, researchers, professionals; knowledgeable general readers."
— Choice Reviews