Military Psychology: Clinical and Operational Applications (Hardcover)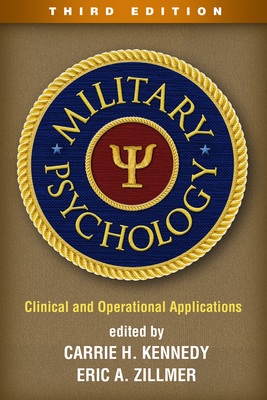 $74.75

Usually Ships in 1-5 Days
Description
---
With more than 60% new material reflecting advances in evidence-based treatments and the evolving roles of military mental health providers, the authoritative resource in the field is now in a significantly revised third edition. The volume provides research-based roadmaps for prevention and intervention with service members and veterans in a wide range of settings. Up-to-date information about military procedures and guidelines is included throughout. Grounded in current knowledge about stress and resilience, chapters describe best practices in treating such challenges as depression, anxiety disorders, posttraumatic stress disorder, and substance use disorders. Also addressed are operational functions of psychologists in personnel assessment and selection, counterintelligence, and other areas.
 
New to This Edition
*Chapters on new topics: the spectrum of military stress reactions, concussion management, military sexual assault, embedded/expeditionary psychological practice, and security clearance evaluations.
*Fully rewritten chapters on evidence-based treatments, behavioral health in primary care, and disaster mental health.
*Incorporates major shifts in how and where military mental health services are delivered.
 
 
About the Author
---
Carrie H. Kennedy, PhD, ABPP, is a Captain in the Medical Service Corps of the U.S. Navy and Assistant Professor of Psychiatry and Neurobehavioral Sciences at the University of Virginia. She is board certified in both clinical and police and public safety psychology and is a Fellow of the National Academy of Neuropsychology and the American Psychological Association (APA). She currently serves as Member-at-Large, American Board of Police and Public Safety Psychology, and as Division 19 (Society for Military Psychology) Representative, APA Council of Representatives. Her awards include the Charles S. Gersoni and Robert S. Nichols Awards from APA Division 19, and she is a two-time Navy Psychologist of the Year winner. Dr. Kennedy has more than 70 publications in the areas of military psychology, aeromedical psychology, and neuropsychology. She is the author or editor of six books, which have been translated into four languages.
 
Eric A. Zillmer, PsyD, a clinical psychologist, is the Carl R. Pacifico Professor of Neuropsychology at Drexel University in Philadelphia. He is a Fellow of the College of Physicians of Philadelphia, the American Psychological Association, and the National Academy of Neuropsychology, for which he also served as president. Dr. Zillmer has done extensive work on terrorism as well as the psychology of Nazi Germany, including publications, media, and film. His latest film project was to assist in a Russian documentary entitled Trawinki: School of Executioners. He is the author of The Quest for the Nazi Personality and the text Principles of Neuropsychology, and coauthor of two psychological assessment measures, the d2 Test of Attention and the Tower of London Test. He is a recipient of the Outstanding Faculty Award from the Pennoni Honors College at Drexel.
 
Praise For…
---
"In the third edition of Military Psychology, Kennedy and Zillmer describe the growing array of services provided by military psychologists to the nation's fighting forces during peacetime and war. This is an extraordinary resource for early-career military psychologists, psychologists contemplating a military career, and forensic psychologists conducting evaluations of national security personnel and military veterans. The expansive case illustrations provide rich detail and context. The book is a model of clarity, organization, and transparency. Kennedy and Zillmer, along with their impressive list of contributors, demystify the role of military psychologists and reveal the procedures, standards, methods, regulations, and commitment to ethical practices that underlie their work."--David M. Corey, PhD, ABPP, private practice, Lake Oswego, Oregon

"The third edition of this now-classic work provides a comprehensive, scholarly, and very informative look at topics including fitness for duty, evidence-based behavioral health, sexual assault, suicide, personnel selection, and other important domains affecting the military and those who serve. With contributors selected for their topic expertise, this volume is sure to be one of the most useful sources for informing evidence-based psychology applications in military contexts, and understanding how they have evolved. Highly recommended."--Kirk Heilbrun, PhD, Department of Psychological and Brain Sciences, Drexel University

"As a 27-year Army veteran, now working with community mental health initiatives, I find myself turning to this reference more and more often. The third edition offers important updates on a broad range of topics, presenting a helpful perspective on both the journey so far and opportunities for the future. Issues of mental health in the military, especially conditions arising from service, require attention across patients, providers, and organizations. Many thanks to Kennedy and Zillmer for their continued service to this field."--Lt. Col. Maura A. "Mo" Gillen, U.S. Army (retired), Instructor, Family-to-Family peer education program, National Alliance on Mental Illness

"This book thoroughly covers the vital area of service member mental health and describes many significant resources available to those serving today and in the future. I was particularly struck by the focus on resiliency. We have long valued this quality in the design and construction of ships and submarines, but the human aspects of resilience in the military were overlooked for too long. This is a crucial guide not only for mental health professionals, but also for leaders from across the various military career tracks."--Capt. Larry D. Burrill, U.S. Navy (retired)

"The new edition of Military Psychology is a one-stop-shop for understanding the role and tasks facing military psychologists in the US….This third edition has been updated in several ways, but perhaps most compellingly with the addition of more than 50 short case studies….The volume is also strengthened by the inclusion of a wealth of practical reference material….This third edition offers a valuable resource for anyone interested in the field and application of military psychology."
— The Military Psychologist

"Any mental health practitioner who deals with our men and women in uniform should get to know this volume well....Blend[s] just the right amount of academic scholarship, practical utility, and user-friendly readability." (on the first edition)
— International Journal of Emergency Mental Health

"It is rare to encounter a book with so little to critique....Provides state-of-the-art and practical perspectives for the psychologist serving on the front lines of occupational behavioral health." (on the first edition)
 
— PsycCRITIQUES

"This work is invaluable in the hands of almost any graduate student, and is an absolute must-have for any social services or medical practitioner." (on the first edition)
— Bulletin of the Menninger Clinic