El gran libro del cuerpo humano (The Complete Human Body): Segunda edición. Ampliada y actualizada (DK Human Body Guides) (Hardcover)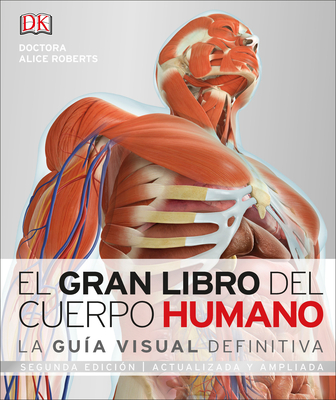 Description
---
- Un atlas de anatomía de cada región corporal, que permite al lector explorar el cuerpo de cerca y casi en tamaño natural, de la cabeza a los pies.
- El funcionamiento del cuerpo, sistema a sistema.
- Se destacan los aspectos más fascinantes del cuerpo humano.
- Con una sección de enfermedades y trastornos y explicaciones fáciles de entender.

El libro más completo en el mercado sobre la anatomía, el desarrollo, las funciones y los trastornos del cuerpo humano.
Excelente referencia sobre anatomía humana, revisada con los últimos descubrimientos médicos.
Imprescindible para estudiantes y profesionales de la salud, y accesible para cualquier persona interesada en el funcionamiento del cuerpo humano.
 
Con ilustraciones tridimensionales para conocer el cuerpo humano como nunca antes. Observa la anatomía humana con increíble detalle y claridad, y descubre cómo funciona el cuerpo, cómo cambia desde la infancia hasta la vejez, qué puede fallar y por qué.
 
-----------------------------------------------------------------------------------------------------------

- Full of unique, specially commissioned digital artworks that show anatomical structures and body processes in incredible detail.
- Explores the body's form and function in greater depth than any other popular reference title.
- Features specially commissioned body scans.
- Finally, the diseases and disorders section includes easy-to-follow summaries of over 200 health conditions.

The definitive guide to the development, form, function, and disorders of the human body.
Reference for students and health care professionals, or anyone interested in this fascinating subject, accessible enough for anyone to dip into and enjoy. You will understand the human body as never before, explore human anatomy in incredible detail and clarity, and discover how the body works, how it changes from infancy to old age, and what can go wrong and why.
About the Author
---
DK | Para mentes curiosas

Creemos en la magia de descubrir. Por eso creamos libros que exploran ideas y despiertan la curiosidad sobre nuestro mundo.

De las primeras palabras al Big Bang, de los misterios de la naturaleza a los secretos de la ciudad, descubre en nuestros libros el conocimiento de grandes expertos y disfruta de horas de diversión e inspiración inagotab.