The Wall of Storms (The Dandelion Dynasty #2) (Hardcover)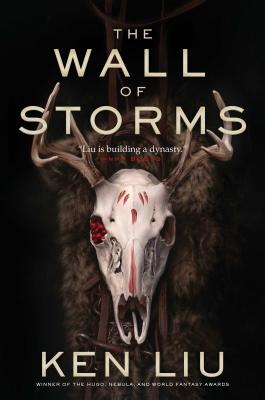 $29.99
Usually Ships in 1-5 Days
Description
---
In the much-anticipated sequel to the "magnificent fantasy epic" (NPR) Grace of Kings, Emperor Kuni Garu is faced with the invasion of an invincible army in his kingdom and must quickly find a way to defeat the intruders.

Kuni Garu, now known as Emperor Ragin, runs the archipelago kingdom of Dara, but struggles to maintain progress while serving the demands of the people and his vision. Then an unexpected invading force from the Lyucu empire in the far distant west comes to the shores of Dara—and chaos results.

But Emperor Kuni cannot go and lead his kingdom against the threat himself with his recently healed empire fraying at the seams, so he sends the only people he trusts to be Dara's savvy and cunning hopes against the invincible invaders: his children, now grown and ready to make their mark on history.
About the Author
---
Ken Liu is one of the most lauded authors in the field of American literature. A winner of the Nebula, Hugo, World Fantasy, Locus Sidewise, and Science Fiction & Fantasy Translation Awards, he has also been nominated for the Sturgeon and Locus Awards. His short story, "The Paper Menagerie," is the first work of fiction to simultaneously win the Nebula, Hugo, and World Fantasy Awards. He also translated the 2015 Hugo Award–winning novel The Three-Body Problem, written by Cixin Liu, which is the first novel to ever win the Hugo award in translation. The Grace of Kings, his debut novel, is the first volume in a silkpunk epic fantasy series set in a universe he and his wife, artist Lisa Tang Liu, created together. It was a finalist for a Nebula Award and the recipient of the Locus Award for Best First Novel. He lives near Boston with his family.
Praise For…
---
"Hugo-winner Liu delivers truly epic fantasy adventure in the magnificent second chapter (afterThe Grace of Kings) of the groundbreaking Dandelion Dynasty series, inspired by the legends surrounding China's Han Dynasty. Onetime con man Kuni Garu, now Emperor Ragin of Dara, has successfully ruled the island archipelago—and kept the peace—for nearly a decade. But now that Kuni's sons are old enough to be given official responsibilities, there's increased scheming at court; Kuni's not the only one playing the long game. Add in growing civil unrest caused by the heavy hand of tradition behind government appointments, fresh political intrigue brewing offshore, and the sudden appearance of invaders from the north, and Liu has enough plots for five novels. He keeps them all moving like a juggler tossing up bowling balls, boomerangs, and crystal goblets: disaster seems imminent more than once, but somehow everything stays up in the air and gloriously unbroken. Liu's characters are a delight, the worldbuilding is unusual and impeccable, and the writing is smooth and luminous. This tale of divided loyalties, deadly ambition, and "silkpunk" technology delivers enough excitement and sense of wonder to enchant any fan of epic fantasy."