Wolf-Speaker (The Immortals #2) (Paperback)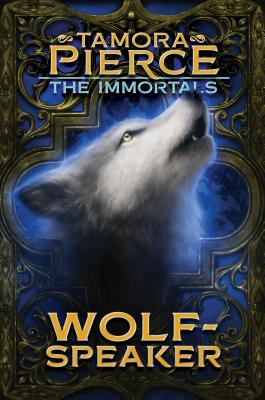 Description
---
Daine's magic must save her friends—both wolf and human—in this second book of the Immortals series, featuring an updated cover for longtime fans and fresh converts alike, and including an all-new afterword from Tamora Pierce.

When Daine is summoned to help a pack of wolves—dear friends from her old village—she and Numair travel to Dunlath Valley to answer the call. But when they arrive, Daine is shocked to learn that it's not only animals whose lives are threatened; people are in danger, too.

Dunlath's rulers have discovered black opals in their valley. They're dead set on mining the opals and using the magic contained in the stones to overthrow King Jonathan. Even if it means irreversibly damaging the land—and killing their workers. Daine must master her wild magic in order to save both her animal friends and her human ones.
About the Author
---
Beloved author Tamora Pierce has written a great number of books, including the Song of the Lioness quartet, The Immortals quartet, the Circle of Magic quartet, the Protector of the Small quartet, The Circle Opens quartet, the Trickster series, The Will of the Empress, Melting Stones, the Beka Cooper series, and The Numair Chronicles. She lives in upstate New York with various cats, other four-legged animals, and birds who feed in her yard, and can be e-visited at Tamora-Pierce.net.