Nature's Mountain Mansion: Wonder, Wrangles, Bloodshed, and Bellyaching from Nineteenth-Century Yosemite (Paperback)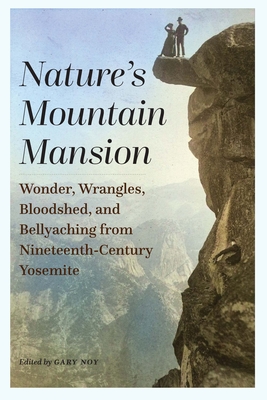 $29.95

Usually Ships in 1-5 Days
Staff Reviews
---
Check out the book trailer here!
Description
---
Nature's Mountain Mansion is the first anthology on Yosemite that focuses exclusively on the nineteenth century, the critical period in which Yosemite was "discovered" by an expanding nation and transformed into one of the country's most visited national parks. While there are volumes that provide readings about Yosemite in the nineteenth century, few provide critical—sometimes even disparaging—eyewitness reflections on the Yosemite experience, and none include excerpts from the government documents that defined the future of the park, such as the Yosemite Valley Grant Act of 1864.

This anthology collects selections from fiction, nonfiction, and government documents that demonstrate the glory, the brutality, and the controversies surrounding this extraordinary and much-loved landscape. Some selections have not appeared in print since their original publication, while others have not been republished or excerpted for decades.
About the Author
---
Gary Noy has taught history at Sierra Community College in Rocklin, California, for more than three decades. He is the editor of Distant Horizon: Documents from the Nineteenth-Century American West (Nebraska, 1999) and author of Hellacious California! Tales of Rascality, Revelry, Dissipation, Depravity, and the Birth of the Golden State, among other books.
Praise For…
---
"An engaging anthology of firsthand accounts documenting Yosemite's storied past, supported by Gary Noy's brilliant scholarship. The literature devoted to Yosemite is immense and rich, but Noy has brought together the best of the best."—Gary F. Kurutz, principal librarian emeritus for Special Collections and California history at the California State Library, Sacramento

"Like Yosemite itself, Nature's Mountain Mansion packs a treasure trove of wonders into a single spectacular space—from voices of Indigenous inhabitants to pioneers, profiteers, and nature-loving pilgrims like John Muir, all framed by Noy's own fun and fascinating introductions."—Scott Lankford, author of Tahoe beneath the Surface: The Hidden Stories of America's Largest Mountain Lake

"Alongside such seminal works as John Muir's Yosemite and Rebecca Solnit's Savage Dreams, Gary Noy's important new collection, Nature's Mountain Mansion, expands the cultural space for a more nuanced, complex understanding of Yosemite's place in our literary and historical imagination."—Terry Beers, author of The End of Eden: Agrarian Spaces and the Rise of the California Social Novel

"Gary Noy shows his remarkable ability to wed scholarship and storytelling. He captures the marvel that Yosemite has long inspired. He allows the reader to walk through the darkness and the light in the landscapes he explores. A wonderful book!"—Patrick Ettinger, author of Imaginary Lines: Border Enforcement and the History of Undocumented Immigration, 1882–1930