Wifey's Next Deadly Hustle (Paperback)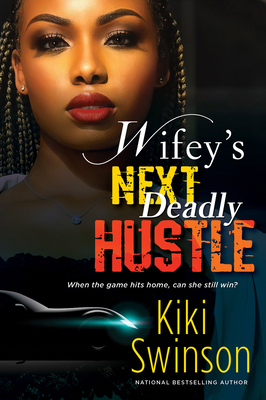 $16.95

Usually Ships in 1-5 Days
Description
---
In this sizzling, high-octane new series, national bestselling author and urban lit superstar Kiki Swinson brings back the unforgettable Kira from her gritty bestselling Wifey novels. Now, from drug king pin's wife to streetwise widow and back again, along with all the danger and sexy action in between, Kira's ready for her next deadly hustle.

Kira raked in a fortune from her last high-end scheme. And she snagged South Beach, Florida's biggest kingpin, Dylan, as her sexy, very protective fiancé. But more game means nothing but more problems when one of the bodies dropped along the way is a judge friend of Kira's influential father. And when he has Dylan arrested—and threatens to expose the lethal money behind Kira's empire—she may have to silence her snitching pops for good . . .

Now a ruthless homicide detective is on her trail. Dylan's hungry rival will stop at nothing to nail Kira for murder. And Dylan's right-hand man could be working all sides to become the last thug standing. To stay ahead of all her enemies, Kira must make a deadly choice—where even all the right moves promise no way out . . .

About the Author
---
Kiki Swinson is a nationally bestselling author whose novels, inspired by her experiences and a five-year stint in federal prison, have sold over 3.4 million copies. Swinson's works feature resilient women making tough—and sometimes not quite legal—decisions to survive. She completed her first novel while incarcerated and her second novel, Wifey, went on to become a #1 Essence® bestseller and the first installment in one of today's most popular urban series. A native of Portsmouth, Virginia—and a former hustler's wife—Swinson resides in Bel Air, Maryland. Visit her on instagram at @AllThingsKikiSwinson.