The Fredrik Backman Collection: A Man Called Ove, My Grandmother Asked Me to Tell You She's Sorry, and Britt-Marie Was Here (Paperback)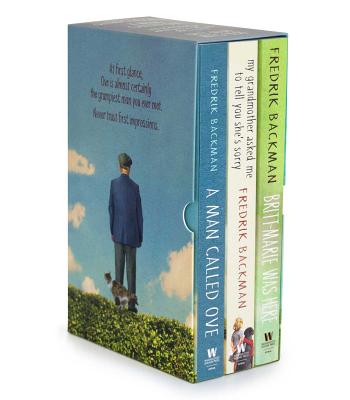 Description
---
From beloved #1 New York Times bestselling author Fredrik Backman, a beautiful boxed set collection of his first three charming, matchless novels that have taken the world by storm: A Man Called Ove, My Grandmother Asked Me to Tell You She's Sorry, and Britt-Marie Was Here.

Fredrik Backman's novels have delighted readers with their irrepressible charm, whimsy, and warmth. Now, for the first time, all three of his novels are collected in one boxed set, making this a perfect gift for both longtime and new fans.

In A Man Called Ove, an unexpected friendship forms when a young family moves next door to the neighborhood curmudgeon. In this feel-good tale of love and redemption, Backman explores the profound impact one life has on countless others.

My Grandmother Asked Me to Tell You She's Sorry is the story of a young girl named Elsa who is struggling after the death of her beloved and eccentric grandmother. When she discovers a series of letters her grandmother wrote apologizing to people she had wronged, Elsa embarks on a life-changing adventure. With humor and heart, this is a story about life and death and one of the most important human rights: the right to be different.

Finally, in Britt-Marie Was Here, Backman tells the "heartwarming story about a woman rediscovering herself after a personal crisis…fans of Backman will find another winner in these pages" (Publishers Weekly). When the fastidious Britt-Marie leaves her cheating husband and starts over in a small backwater town, she never expects to find herself drawn into the lives of its quirky and odd inhabitants. Most alarming of all, she's given the impossible task of leading the supremely untalented children's soccer team to victory. In this small town of misfits, can Britt-Marie find a place where she truly belongs?
About the Author
---
Fredrik Backman is the #1 New York Times bestselling author of A Man Called Ove, My Grandmother Asked Me to Tell You She's Sorry, Britt-Marie Was Here, Beartown, Us Against You, and two novellas, And Every Morning the Way Home Gets Longer and Longer and The Deal of a Lifetime, as well as one work of nonfiction, Things My Son Needs to Know About the World. His books are published in more than forty countries. His latest novel, Anxious People, was an instant #1 New York Times bestseller. He lives in Stockholm, Sweden, with his wife and two children. Connect with him on Facebook or Twitter @BackmanLand or on Instagram @Backmansk.
Praise For…
---
PRAISE FOR A MAN CALLED OVE:

"A charming debut…You'll laugh, you'll cry, you'll feel new sympathy for the curmudgeons in your life. You'll also want to move to Scandinavia, where everything's cuter."
— People

"Even the most serious reader of fiction needs light relief, and for that afternoon when all you want is charm, this is the perfect book."
— San Francisco Chronicle

"You will laugh, you will cry, as his heartbreaking story unfolds through the diverse cast of characters that enter his life, all uninvited. You will never look at the grumpy people who come into your life in quite the same way. A very memorable read."

— San Diego Union Tribune, Best Books of 2015

PRAISE FOR MY GRANDMOTHER ASKED ME TO TELL YOU SHE'S SORRY:

"Bring tissues when you start My Grandmother Asked Me to Tell You She's Sorry, but bring your funnybone, too. It's that kind of book – one that, if you miss it, you'll never forgive yourself."
— Business Insider, Best Books of 2015

"Fredrik Backman has a knack for weaving tales that are believable and fanciful. Backman's smooth storytelling infuses his characters with charm and wit… a delightful story."
— St. Louis Post-Dispatch

"Every bit as churlish but lovable as Backman's cantankerous protagonist in his debut, A Man Called Ove (2014), precocious Elsa will easily work her way into the hearts of readers who like characters with spunk to spare. A delectable homage to the power of stories to comfort and heal, Backman's tender tale of the touching relationship between a grandmother and granddaughter is a tribute to the everlasting bonds of deep family ties."
— Booklist (starred)

"Full of heart, hope, forgiveness, and the embracing of differences, Elsa's story is one that sticks with you long after you've turned the last page."
— Library Journal

PRAISE FOR BRITT-MARIE WAS HERE:

"The bestselling author of A MAN CALLED OVE returns with this heartwarming story about a woman rediscovering herself after personal crisis. Backman reveals Britt-Marie's need for order….with clear, tight descriptions. Insightful and touching, this is a sweet and inspiring story about truth and transformation. Fans of Backman's will find another winner in these pages."
— Publishers Weekly

"Britt-Marie's metamorphosis from cocoon to butterfly seems all the more remarkable for the utterly discouraging environment in which it takes place."
— Booklist

"A brilliant mix of belly-laughs, profound insight and captivating events delivered… with Backman's pitch-perfect dialogue and an unparalleled understanding of human nature."
— Shelf Awareness