AP U.S. History Premium, 2023-2024: Comprehensive Review with 5 Practice Tests + an Online Timed Test Option (Barron's AP) (Paperback)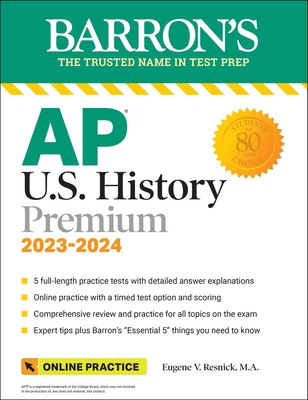 Description
---
Always study with the most up-to-date prep! Look for AP U.S. History Premium, 2024: 5 Practice Tests + Comprehensive Review + Online Practice, ISBN 9781506288086, on sale July 4, 2023.

Publisher's Note: Products purchased from third-party sellers are not guaranteed by the publisher for quality, authenticity, or access to any online entitles included with the product.          
            
            
            
            
            
            

 
About the Author
---
About the Author
Eugene V. Resnick M.A.
Eugene V. Resnick has taught in the Social Studies Department at Midwood High School in Brooklyn, New York, over 25 years; he has taught AP United States History for 18 of those years. He received a Master's degree in American History from Brooklyn College.

About the Publisher
Many great things begin with a tiny spark, and for Manuel H. Barron that spark came from a mimeograph machine in the basement of his Brooklyn, NY, bookstore in the late 1930s. People from the community asked Mr. Barron for books to help their children study for the New York State Regents exams. After realizing there wasn't anything available, Mr. Barron created his own study guides.

Now, more than 80 years later, Barron's continues to help millions of learners worldwide prepare for their next steps. With offerings from pre-college prep to world language guides and professional certification exams, Barron's wants to be part of your success story no matter what learning path you're on. You can trust Barron's to provide exceptional products created only by top experts with years of experience in education. From generation to generation, our mission remains the same: Learn, grow, and succeed with Barron's throughout your life-long learning journey.