I'm Still Here: Black Dignity in a World Made for Whiteness (Hardcover)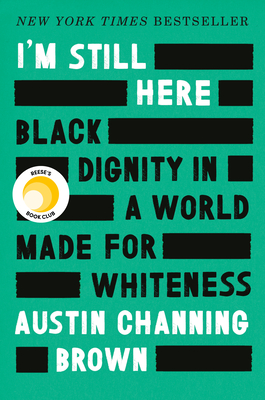 $25.00

Usually Ships in 1-5 Days
Description
---
NEW YORK TIMES BESTSELLER • REESE'S BOOK CLUB PICK • From a leading voice on racial justice, an eye-opening account of growing up Black, Christian, and female that exposes how white America's love affair with "diversity" so often falls short of its ideals.

"Austin Channing Brown introduces herself as a master memoirist. This book will break open hearts and minds."—Glennon Doyle, #1 New York Times bestselling author of Untamed

Austin Channing Brown's first encounter with a racialized America came at age seven, when she discovered her parents named her Austin to deceive future employers into thinking she was a white man. Growing up in majority-white schools and churches, Austin writes, "I had to learn what it means to love blackness," a journey that led to a lifetime spent navigating America's racial divide as a writer, speaker, and expert helping organizations practice genuine inclusion.

In a time when nearly every institution (schools, churches, universities, businesses) claims to value diversity in its mission statement, Austin writes in breathtaking detail about her journey to self-worth and the pitfalls that kill our attempts at racial justice. Her stories bear witness to the complexity of America's social fabric—from Black Cleveland neighborhoods to private schools in the middle-class suburbs, from prison walls to the boardrooms at majority-white organizations.

For readers who have engaged with America's legacy on race through the writing of Ta-Nehisi Coates and Michael Eric Dyson, I'm Still Here is an illuminating look at how white, middle-class, Evangelicalism has participated in an era of rising racial hostility, inviting the reader to confront apathy, recognize God's ongoing work in the world, and discover how blackness—if we let it—can save us all.
About the Author
---
Austin Channing Brown is a speaker, writer, and media producer providing inspired leadership on racial justice in America. She is the author of I'm Still Here: Black Dignity in a World Made for Whiteness and the executive producer of the web series The Next Question. Her writing and work have been featured by outlets such as On Being, Chicago Tribune, Christianity Today, Sojourners, Shondaland, and WNYC.
Praise For…
---
"Powerful . . . Brown calls on readers to live their professed ideals rather than simply state them."—Publishers Weekly (starred review)

"Takes readers on a journey through the racial divide in a way we've truly never seen before. Powerful, haunting, and absolutely impossible to put down, [Brown's] account of what it's like to grow up black, middle-class, and female in modern America is not to be missed."—PopSugar

"A deeply personal celebration of blackness that simultaneously sheds new light on racial injustice and inequality while offering hope for a better future."—Shondaland

"Moves the race conversation forward . . . Brown offers a powerful perspective on race with her first-hand account."—WNYC

"I read Austin Channing Brown's incredible book in one sitting. This is one that every black woman needs to read to be validated and every white person needs to read to receive some perspective . . . Brown has concisely articulated the burdens, questions, and frustrations that I find myself experiencing daily as a black woman."—Sojourners

"What a stunning debut from a seasoned racial justice leader. Austin does double duty by fiercely affirming blackness while simultaneously unveiling and demystifying the subtle effects of white supremacy among Christians. I trust Austin, I listen to Austin and I learn from Austin. I hope you will too."—Christena Cleveland, professor at Duke University and author of Disunity in Christ
 
"Austin Channing Brown introduces herself as a master memoirist, delivering a manifesto on racism in America that will live on shelves besides Ta-Nehisi Coates and Michelle Alexander. This book will break open hearts and minds. It's an example of how one woman can change the world by telling the truth about her life with unflinching, relentless courage."—Glennon Doyle, bestselling author of Love Warrior and Carry On, Warrior, and president of Together Rising 
 
"I have laughed, I have held back tears, I have reflected with joy, hope, and hurt while reading. Austin captures perfectly the sentiment of many black people in America. She's not only telling her story, she's telling our story. Austin is a gift to the body and the culture."—Lecrae, Grammy award-winning artist and bestselling author of Unashamed
 
"Austin is one of my most important teachers. I'm Still Here is devastating, beautiful, and haunting and it leaves no room for a tepid reaction. Her crystal clear voice will move you, push you, and break your heart. Prophetic and tender, I plan to put this book in every pair of hands I know and join her in the dismantling of white supremacy. She's still here and I'm with her."—Jen Hatmaker, New York Times bestselling author of Of Mess and Moxie and For the Love

"The movement toward diversity and forgiveness, [Brown] points out, too often involves white people seeking credit for recognizing the crimes of the past even as they do nothing to fix things today, and black people being required to provide endless absolution and information while calmly enduring dignity-eroding and rage-inducing injustices."—Library Journal (starred review)

"Brown passionately rejects facile reliance on 'hope,' stating that 'in order for me to stay in this work, hope must die' and 'the death of hope gives way to a sadness that heals, to anger that inspires, to a wisdom that empowers me.' An eloquent argument for meaningful reconciliation focused on racial injustice rather than white feelings."—Booklist