Cat Ninja: Time Heist (Paperback)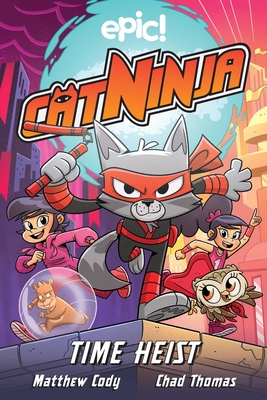 Other Books in Series
This is book number 2 in the Cat Ninja series.
Description
---
From Epic Originals comes an action-packed graphic novel series about a new breed of superhero. Return to Metro City's furry underbelly in this exciting follow-up to Kirkus-starred Cat Ninja volume 1!

When Leon brings a mystery egg home from school, Cat Ninja and Master Hamster face their biggest challenge yet: babysitting! And while they're pretty sure they can keep an egg out of trouble, they know they're in over their heads when that egg hatches into a high-energy ball of feathers and cuteness. It's baby's first superhero adventure when they decide to bring their newest family member along as they uncover the identity—and nefarious motives—of Metro City's latest foe.

Through the shared adventures of these former adversaries, kids learn the importance of:

• Using your powers—super or not!—to stand up for those who need your help
• Family, in all its forms
• Second chances
 
About the Author
---
Matthew Cody is the author of several popular books, including the award-winning Supers of Noble's Green trilogy: Powerless, Super, and Villainous. He is also the author of Will in Scarlet and The Dead Gentleman, as well as the graphic novels Zatanna and the House of Secrets from DC Comics and The Bright Family from Epic/Andrews McMeel. He lives in Manhattan, New York, with his wife and son.

Chad Thomas is an illustrator and cartoonist living with his family in McKinney, Texas. He's worked on books such as TMNT, Star Wars Adventures, and Mega Man and also illustrates activity and educational titles. He loves his family, comic books, and Star Wars and will let his children beat him in checkers, but never in Mario Kart.