The Girl and the Witch's Garden (Hardcover)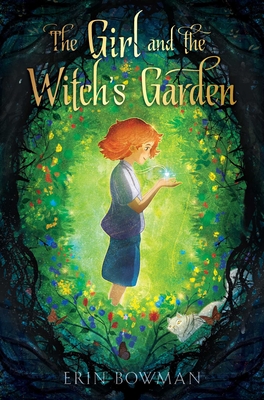 $17.99

Usually Ships in 1-5 Days
Description
---
"As enchanting as it is wise, the true magic of this secret garden story is in its unflinching, heart-wrenching exploration of grief, belonging, and inner strength. Once I stepped into the witch's garden with Piper, I did not want to leave." —Jessica Khoury, author of The Mystwick School of Musicraft
"Piper Peavey is a protagonist all her own in a spellbinding story that has a touch of Miss Peregrine's Home for Peculiar Children and a dab of Circus Mirandus." —Quinn Sosna-Spear, author of The Remarkable Inventions of Walter Mortinson
"Magical and mysterious, a captivating read from start to beautiful end." —Megan Frazer Blakemore, author of The Water Castle and The Story Web

The Secret Garden meets Miss Peregrine's Home for Peculiar Children in this rich, charming middle grade adventure about a girl determined to infiltrate her grandmother's enchanted garden with the help of some magically gifted friends.

Mallory Estate is the last place twelve-year-old Piper Peavey wants to spend her summer vacation. The grounds are always cold, the garden out back is dead, a mysterious group of children call the property home, and there's a rumor that Melena M. Mallory—the owner of the estate and Piper's wealthy grandmother—is a witch.

But when Piper's father falls ill, Mallory Estate is exactly where she finds herself.

The grand house and its garden hold many secrets—some of which may even save her father—and Piper will need to believe in herself, her new friends, and magic if she wants to unlock them before it's too late.
About the Author
---
Erin Bowman is the critically acclaimed author of numerous books for children and teens, including the Taken trilogy, Vengeance Road, Retribution Rails, the Edgar Award–nominated Contagion duology, The Girl and the Witch's Garden, and the forthcoming Dustborn. A web designer turned author, Erin has always been invested in telling stories—both visually and with words. Erin lives in New Hampshire with her husband and children.
Praise For…
---
"As enchanting as it is wise, the true magic of this secret garden story is in its unflinching, heart-wrenching exploration of grief, belonging, and inner strength. Once I stepped into the witch's garden with Piper, I did not want to leave."
— Jessica Khoury, author of THE MYSTWICK SCHOOL OF MUSICRAFT

"Piper Peavey is a protagonist all her own in a spellbinding story that has a touch of Miss Peregrine's Home for Peculiar Children and a dab of Circus Mirandus."
— Quinn Sosna-Spear, author of THE REMARKABLE INVENTIONS OF WALTER MORTINSON

"Magical and mysterious, a captivating read from start to beautiful end."
— Meg Frazer Blakemore, author of THE WATER CASTLE and THE STORY WEB