The Fastest Tortoise in Town (Hardcover)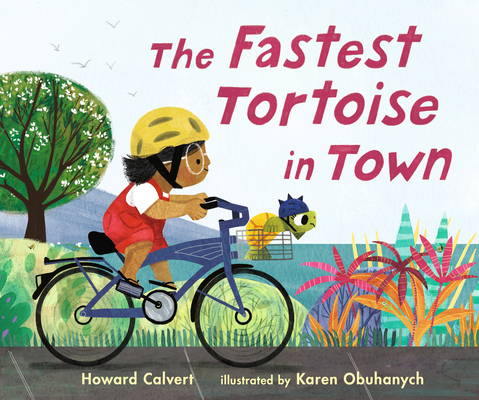 $18.99

Usually Ships in 1-5 Days
Description
---
The fable of the tortoise and the hare receives a charming new spin in this wonderfully illustrated, cheering tale about a lovable and relatable trouper.

Barbara Hendricks, a tortoise, has entered a road race, but what was she thinking? With only a week to go before the big day, she worries that she doesn't stand a chance against the other animals competing. Barbara's friend and owner, Lorraine, inspires her to train a little bit more each day and coaxes her out of her shell when the race day arrives. How intimidating to line up next to the slow loris, the snail, the sloth, and the walrus! But Barbara realizes that if she just tries her best, she's already won. Adorably illustrated in rich color and detail and told with splashes of dry humor, this touching story of perseverance celebrates all that can be accomplished with a little preparation and a lot of self-love.
About the Author
---
Howard Calvert is a children's book author and magazine journalist. He enjoys spending time outdoors trail running and mountain biking. Howard Calvert lives in Hampshire, England, with his wife and two daughters.

Karen Obuhanych was raised in California, where she enjoyed the outdoors, sports, and doing anything creative. Inspired by annual trips to Hawaii, where her father grew up, she moved to Oahu to attend the University of Hawai'i at Manoa and graduated with a BFA in painting. Karen Obuhanych currently resides on the Big Island of Hawaii.
Praise For…
---
Barbara Hendricks, a regular leopard tortoise, has entered a running race. She knows it's not a great idea and she's ready to back out, but her owner Lorraine believes in her and Barbara is willing to give it a go. . . . The race result might not matter for young listeners as they'll likely be rolling with giggles at the sight of the grimly determined racers slowly—slowly—making their way across several pages of panels. . . The richly textured mixed-media art is vibrant, balancing bright pops of color in the foreground with more subtle hues in the setting. . . The try-your-best message is a familiar one, but it has an irreverent freshness here.
—The Bulletin of the Center for Children's Books (starred review)

Anyone who has optimistically signed up for a fun run will see themselves in friendly faced Barbara Hendricks, the 'regular leopard tortoise' who narrates this sweetly rendered variation on Aesop's 'The Tortoise and the Hare.' . . . Delivers visual laughs and creates a tortoise to root for.
—Publishers Weekly

Believing in yourself helps when the odds seem stacked against you, as exemplified in this clever tale. . . any child who has faced a seemingly impossible task will relate to Barbara, right to the end. . . . Slow and steady? Call this tortoise shell-bent and dedicated. A charmer.
—Kirkus Reviews

In this fun nod to Aesop's fable, a cute tortoise with an expressive little mouth and extremely long lashes belongs to a gung-ho little girl who has signed him up for a race. . . the vibrant mixed-media illustrations enhance the story with comic details.
—Booklist

This ­delightful story has a hero who works hard, accepts her limitations, and perseveres ­despite the odds. Children will root for ­Barbara and hopefully capture some of her can-do spirit and hard work ethic along the way. ­. . this book packs a lot of great lessons into a charming story, and is certainly one to add to the sports shelves, or the good sports shelves.
—School Library Journal