Meredith, Alone (Hardcover)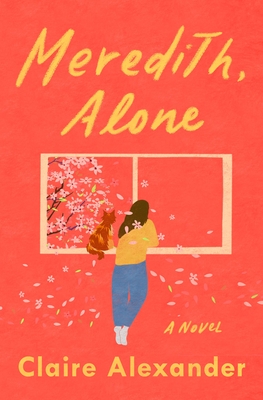 $28.00

Usually Ships in 1-5 Days
Staff Reviews
---
MEREDITH, ALONE, like ELEANOR OLIPHANT IS COMPLETELY FINE, is beautiful and funny, honest and earnest, and, in my opinion, close to perfect. It cuts straight to the heart of what it means to be human without losing any of the nuance and complexity inherent to humanity. 
Meredith feels intimately familiar to me. I know the feeling of wanting to grow but being trapped under so many layers of panic and compensations that it seems impossible. So we settle, settle for a life scratching at the edge of a six and claim that's as good as a ten because we know it could be worse. Seeing that struggle play out on the page, written with such clarity and care, elicited feelings I don't think I'll ever have the right words for. 
Reading this book was like talking with an old friend, a conversation that ranges from the everyday to extraordinary and back again with the ease and comfort of a mutual understanding born from shared experiences. It was therapeutic and cathartic and I know this is a story I will return to frequently, to remind myself of how far I've come and how that journey, like Meredith's, started with a single step. 
— Jordan
November 2022 Indie Next List
---
"Meredith spent over three years alone in her house — she was not isolated due to a pandemic, but this book put my feelings into words. She made me giggle, cry, and root for her. A story we need after such a numbing time. I feel alive again."
— Tahlia Moe, Bound to Happen Books, Stevens Point, WI
Description
---
You'll be laughing and crying as "the brilliant author of this brilliant book" introduces Meredith, who, after spending three years inside her house, figures out how to rejoin the world one step at a time (Gillian McAllister, author of the Reese's Book Club pick Wrong Place Wrong Time). 

She has a full-time remote job and her rescue cat Fred. Her best friend Sadie visits with her two children.  There's her online support group, her jigsaw puzzles and favorite recipes, her beloved Emily Dickinson poems.  Also keeping her company are treacherous memories of an unstable childhood and a traumatic event that had sent her reeling.  

But something's about to change. First, two new friends burst into her life.  Then her long-estranged sister gets in touch.  Suddenly her carefully curated home is no longer a space to hide.  Whether Meredith likes it or not, the world  is coming to her door...

 
About the Author
---
Claire Alexander lives on the west coast of Scotland with her husband and children.  She has written for The Washington Post, The Independent, The Huffington Post and Glamour. In 2019, one of her essays was published in the award-winning literary anthology We Got This: Solo Mom Stories of Grit, Heart, and Humor. When she's not writing or parenting, she's on her paddle board, thinking about her next book. 
 
Praise For…
---
"I laughed, I cried, and I bowed down to the brilliant author of this brilliant book."—Gillian McAllister, New York Times bestselling author of Wrong Place Wrong Time

"A gorgeous, charming novel...Sweet, moving, funny and hopeful, with a courageous heroine who sweeps you up in her story."—Jennifer Saint, bestselling author of Ariadne

"A novel that examines our most private spaces and what it means to be alone versus lonely, this charming, thought-provoking debut novel will be a big hit."—Good Morning America

"Meredith, Alone is a touching contemporary fiction following one woman's journey back into the world." —Popsugar

"A timely and poignant book about trauma, loneliness, and stepping outside of our comfort zones — literally."—Buzzfeed

"Executed with care, humor, and grace, this novel pokes at the bubble of solitude to show each of us that suffering has a sense of community and with that, the prospect of optimism."—Library Journal

"Alexander creates a winning heroine in Meredith and likable characters in her kind friends... An optimistic, feel-good novel."—Kirkus Reviews

"[A] satisfying debut. The endearing characters offer a sensitive portrayal of what it means to live with mental health issues… with heart to spare."
 —Publishers Weekly

"I shed tears. Very, very touching, sad, sweet and hopeful."—New York Times bestselling author Marian Keyes