Manual of Psychiatric Care for the Medically Ill (Paperback)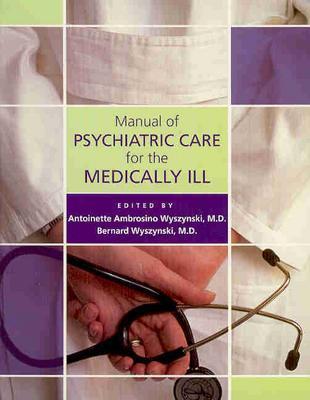 Description
---
Manual of Psychiatric Care for the Medically Ill delivers a practical approach to accurate psychiatric diagnosis and treatment in the medical-surgical setting. The editors have updated the literature reviews of their widely used 1996 American Psychiatric Publishing publication A Case Approach to Medical-Psychiatric Practice and have added easy-to-use summaries, Web resources, checklists, flowcharts, and worksheets-all designed to facilitate and teach the process of psychiatric consultation. The appended study guide makes this book even more valuable as an educational tool.
Intended as a companion guide to comprehensive textbooks in psychosomatic medicine, this concise volume combines medication updates with "how-to" strategies for the psychiatric treatment of patients with cardiovascular, hepatic, renal, and pulmonary disease; gastrointestinal symptoms; delirium; HIV; hepatitis C; steroid-induced psychiatric syndromes; and organ transplantation. A special feature is the comprehensive chapter on the treatment of psychiatric illness in pregnancy. Each chapter summarizes the literature, emphasizing diagnostic and treatment considerations for patients with psychiatric symptoms and medical illnesses.
Representing the work of 24 contributors, this useful, highly informative volume features - Checklists, flowcharts, and worksheets that can be photocopied and brought to the patient's bedside for use during the clinical consultation. These templates help focus the information-gathering process, organize the data, and generate important documentation.- Standardized assessment instruments and questionnaires, such as the Michigan Alcohol Screening Test, Delirium Rating Scale-Revised-98, and HIV Dementia Scale, which assist in consultation and evaluation.- Summaries and charts of differential diagnoses to assist psychiatric consultation to medical patients, including Web addresses to access the latest information on a particular condition or treatment.- A study guide in case-question-answer format for selected chapters.
This volume also includes a "how-to" chapter on assessing decisional capacity, complete with a worksheet for gathering information and documenting informed consent. It also features practical reviews of psychotherapeutic issues, such as a primer for what to do when patients ask about spiritual issues. Concluding chapters present short, practical guides on addressing general psychological issues occurring in medical patients.
This proven manual--already being used to teach residents the core curriculum in Consultation-Liaison Psychiatry and On-Call Preparedness at Bellevue Hospital in New York City--will be welcomed by general psychiatrists, consultation-liaison and psychosomatic medicine fellows, residents, and medical students everywhere.
About the Author
---
Antoinette Ambrosino Wyszynski, M.D., is a graduate of New York University School of Medicine in New York City. She completed her residency in psychiatry at Bellevue-N.Y.U. Medical Centers, and was a Fellow at Memorial Sloan-Kettering Cancer Center. She divides her time between treating medically ill outpatients suffering psychiatric disorders and teaching psychosomatic medicine in the N.Y.U.-Bellevue residency program. Dr. Wyszynski is also on the Faculty of The Psychoanalytic Institute at N.Y.U. Medical Center.Bernard Wyszynski, M.D., is a graduate of the University of Pennsylvania School of Medicine. He completed his residencies in neurology and in psychiatry at Mt. Sinai Hospital in New York City. He is currently Inpatient Director and Unit Chief, Inpatient Psychiatry, at Montefiore Hospital and Medical Center, Bronx, New York. He teaches neuropsychiatry to medical students and psychiatric residents at Albert Einstein College of Medicine.They are co-authors of A Case Approach to Medical-Psychiatric Practice (APPI, 1996)