I Die, But the Memory Lives on (Hardcover)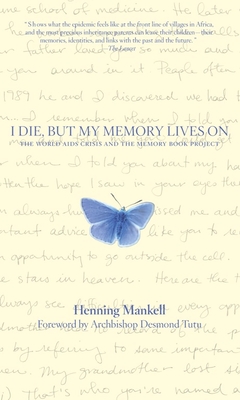 $14.95

Usually Ships in 1-5 Days
Description
---
Henning Mankell, internationally famous creator of the bestselling Kurt Wallander mysteries, here offers a nonfiction fable about a heartrending tradition spawned by a major health crisis: the invaluable Memory Book Project, which gives those dying of AIDS an opportunity to record their lives in words and pictures for the children they leave behind.
In Uganda, Mankell finds village after village populated only by children and the elderly--those left behind after AIDS swept away an entire generation. These slim, intensely personal volumes can contain words, pictures, a pressed butterfly, or even grains of sand as ways to represent the lives lost to this devastating plague. Excerpts from Ugandan memory books appear throughout I Die, But My Memory Lives On and, together with Mankell's narrative, they tell stories of individual lives while sounding a powerful warning about the threat of AIDS.
Featuring a foreword by Archbishop Desmond Tutu, the book includes an appendix listing AIDS organizations and resources. A portion of the book's proceeds with be donated to AIDS charities in Africa.
About the Author
---
Henning Mankell is an internationally bestselling author who has received numerous awards, including the Crime Writers' Association's Macallan Gold Dagger and the German Tolerance Prize. His Kurt Wallander mysteries are global bestsellers and have been adapted into the PBS Masterpiece Mystery! series Wallander, starring Kenneth Branagh. The New Press has published English translations of ten of his Wallander mysteries--Faceless Killers, The White Lioness, Sidetracked, The Fifth Woman, One Step Behind, Firewall, The Dogs of Riga, Before the Frost, The Man Who Smiled, and The Pyramid--the novels The Return of the Dancing Master, Chronicler of the Winds, Depths, Kennedy's Brain, The Eye of the Leopard, Italian Shoes, Daniel, and The Shadow Girls; and the nonfiction I Die, But My Memory Lives On: The World AIDS Crisis and the Memory Book Project. Born in 1948, Mankell grew up in the Swedish village of Sveg. He now divides his time between Sweden and Maputo, Mozambique, where he works as a director at Teatro Avenida.