The New Jim Crow: Mass Incarceration in the Age of Colorblindness (Hardcover)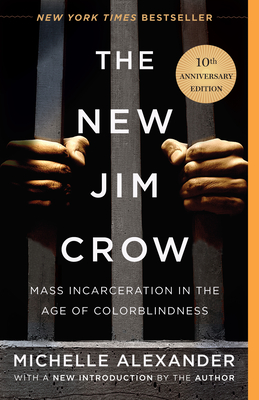 $27.95
Email or call for price.
March 2010 Indie Next List
---
"In The New Jim Crow, Michelle Alexander tirelessly researches both the legal history of America's Jim Crow past and the current legal policies that contribute to the mass incarceration of black people. The text adds significantly to scholarship that contextualizes rates of incarceration among blacks and critiques of social and economic inequality."
— Bruce Smith, Colorado State University Bookstore, Fort Collins, CO
Description
---
Once in a great while a book comes along that changes the way we see the world and helps to fuel a nationwide social movement. The New Jim Crow is such a book. Praised by Harvard Law professor Lani Guinier as brave and bold, this book directly challenges the notion that the presidency of Barack Obama signals a new era of colorblindness. With dazzling candor, legal scholar Michelle Alexander argues that we have not ended racial caste in America; we have merely redesigned it. By targeting black men through the War on Drugs and decimating communities of color, the U.S. criminal justice system functions as a contemporary system of racial control--relegating millions to a permanent second-class status--even as it formally adheres to the principle of colorblindness. In the words of Benjamin Todd Jealous, president and CEO of the NAACP, this book is a call to action. Called stunning by Pulitzer Prize-winning historian David Levering Lewis, invaluable by the Daily Kos, explosive by Kirkus, and profoundly necessary by the Miami Herald, The New Jim Crow is a must-read for all people of conscience.

About the Author
---
Michelle Alexander is an associate professor of law at Ohio State University and holds a joint appointment at the Kirwan Institute for the Study of Race and Ethnicity. Formerly the director of the ACLU's Racial Justice Project in Northern California, Alexander served as a law clerk for U.S. Supreme Court Justice Harry A. Blackmun. Cornel West is the Class of 1943 University Professor, emeritus, at Princeton University and is currently Professor of Philosophy and Christian Practice at Union Theological Seminary.
Praise For…
---
Explosive debutalarming, provocative and convincing."
—Kirkus Reviews

Michelle Alexander's brave and bold new book paints a haunting picture in which dreary felon garb, post-prison joblessness, and loss of voting rights now do the stigmatizing work once done by colored-only water fountains and legally segregated schools. With dazzling candor, Alexander argues that we all pay the cost of the new Jim Crow.
Lani Guinier, professor at Harvard Law School and author of Lift Every Voice: Turning a Civil Rights Setback into a New Vision of Social Justice and The Miner's Canary: Enlisting Race, Resisting Power, Transforming Democracy

For every century there is a crisis in our democracy, the response to which defines how future generations view those who were alive at the time. In the 18th century it was the transatlantic slave trade, in the 19th century it was slavery, in the 20th century it was Jim Crow. Today it is mass incarceration. Alexander's book offers a timely and original framework for understanding mass incarceration, its roots to Jim Crow, our modern caste system, and what must be done to eliminate it. This book is a call to action."
Benjamin Todd Jealous, President and CEO, NAACP

With imprisonment now the principal instrument of our social policy directed toward poorly educated black men, Michelle Alexander argues convincingly that the huge racial disparity of punishment in America is not the mere result of neutral state action. She sees the rise of mass incarceration as opening up a new front in the historic struggle for racial justice. And, she's right. If you care about justice in America, you need to read this book!"
Glenn C. Loury, economist at Brown University and author of The Anatomy of Racial Inequality and Race, Incarceration and American Values

After reading The New Jim Crow, Michelle Alexander's stunning work of scholarship, one gains the terrible realization that, for people of color, the American criminal justice system resembles the Soviet Union's gulag---the latter punished ideas, the former punishes a condition."
David Levering Lewis, Pulitzer-prize winning historian at NYU and author of W.E.B. Du Bois: The Fight for Equality and the American Century, 1919-1963

"We need to pay attention to Michelle Alexander's contention that mass imprisonment in the U.S. constitutes a racial caste system. Her analysis reflects the passion of an advocate and the intellect of a scholar."
Marc Mauer, Executive Director, The Sentencing Project, author of Race to Incarcerate

A powerful analysis of why and how mass incarceration is happening in America, The New Jim Crow should be required reading for anyone working for real change in the criminal justice system."
Ronald E. Hampton, Executive Director, National Black Police Association