The Conversation: A Revolutionary Plan for End-of-Life Care (Paperback)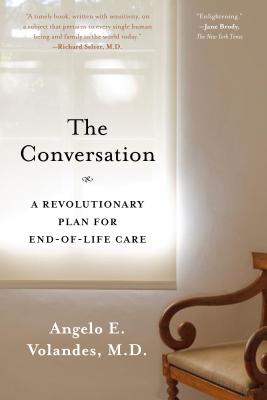 Description
---
In this "enlightening" (Jane Brody, New York Times) book, Harvard Medical School physician Angelo E. Volandes offers a solution to traumatic end-of-life care: talking, medicine's oldest tool.

There is an unspoken dark side of American medicine--keeping patients alive at any price. Two thirds of Americans die in healthcare institutions, tethered to machines and tubes at bankrupting costs, even though research shows that most prefer to die at home in comfort, surrounded by loved ones.

Dr. Angelo E. Volandes believes that a life well lived deserves a good ending. Through the stories of seven patients and seven very different end-of-life experiences, he demonstrates that what people with a serious illness, who are approaching the end of their lives, need most is not new technologies but one simple thing: The Conversation. He argues for a radical re-envisioning of the patient-doctor relationship and offers ways for patients and their families to talk about this difficult issue to ensure that patients will be at the center and in charge of their medical care.

It might be the most important conversation you ever have.
About the Author
---
Angelo Volandes is a physician, writer, and patients' rights advocate. He practices internal medicine at Massachusetts General Hospital in Boston, and is on faculty at Harvard Medical School. He is Co-Founder and President of Advance Care Planning (ACP) Decisions, a non-profit foundation implementing systems and technologies to improve the quality of care delivered to patients in the health care system.
Born and raised in Brooklyn, NY, he was educated at Harvard, Yale, and the University of Pennsylvania. He lectures widely across the country, and spends his time in Massachusetts with his wife Aretha Delight Davis, MD, JD and their two daughters.
Praise For…
---
"A timely book, written with sensitivity, on a subject which pertains to every single human being and family in the world today." - Richard Selzer, MD, author of MORTAL LESSONS

"For too long, a conspiracy of silence has stood between Americans and the quality care they need, want, and deserve. The Conversation could change all that. Good quality care requires that the treatments are consistent with the values, preferences, and priorities of the people we serve. Now, through the stories in The Conversation, Dr. Volandes shows how skillful communication can make the best of even the hardest situations." - Ira Byock, MD, professor, Dartmouth's Geisel School of Medicine; Chief Medical Officer, The Institute for Human Caring; author of THE BEST CARE POSSIBLE and DYING WELL

"My encounter with Dr. Angelo Volandes changed the way I think about life's most precious weeks and hours, and gave me hope for a better future. Your encounter with this passionate humanitarian and the heartbreaking, inspiring stories he tells will affect you the same way." - Jonathan Rauch, Senior Fellow, The Brookings Institution

"Through seven stories of seven patients, Angelo Volandes movingly and evocatively tells the tale of how American healthcare does death wrong, often with tragic consequences, and how we can do it right. This is a book about how to live life as well as possible right up until the end, and it should be required reading for anyone who is mortal." - Shannon Brownlee, author of OVERTREATED

"Part memoir, part tales from the trenches, part guide, The Conversation shows how medicine fails patients with serious illness, then offers a different, better approach to improve not only how we die but--more importantly--how we live." - Louise Aronson, MD, Director, Northern California Geriatrics Education Center and UCSF Medical Humanities

"Volandes has done more than anyone to translate the incomprehensible and the unimaginable into clear visual terms for real human beings trying to decide how they want to be cared for in the future." - Diane Meier, MD, Director of the Center to Advance Palliative Care; Professor of Geriatrics & Palliative Medicine, Mount Sinai School of Medicine

"Worth the price of the book alone is Volandes' easy-to-follow guide for determining and making known one's end-of-life wishes." - Booklist

"Written with passion and clarity, this book moves beyond others on the topic by including empirical evidence of how to make such conversations about end-of-life care most effective." - Library Journal

"Appropriately, Volandes neither attempts nor claims to be impersonal or unemotional about this charged topic; rather, he brings his personal and professional experiences as well as research to his impassioned argument . . . [He]makes his points succinctly and convincingly and offers readers the tools to make change within their own lives." - Shelf Awareness

"A thoughtful and thought provoking book that confronts the fear of death with the grace of wisdom and understanding." - Spiritualty and Health

"Enlightening." - Jane Brody, The New York Times