Candida Albicans: Natural Remedies for Yeast Infection (Paperback)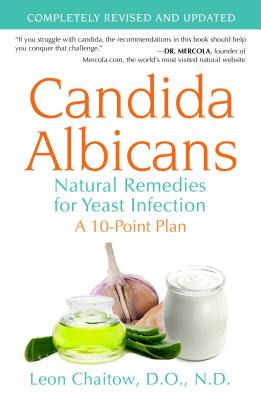 $12.95

Usually Ships in 1-5 Days
Description
---
A 10-point program to naturally treat yeast overgrowth, the root cause of countless chronic ailments

• Details a proven anti-Candida diet, enzymes and herbs to support it, detox methods, and immune-boosting strategies to rebuild and prevent future Candida overgrowth

• Explains how antibiotics, antacids, contraceptive pills, and steroids as well as a sugar-rich diet lead to Candida overgrowth within the body

• Reveals how Candida can contribute to a wide variety of physical and mental problems, from depression to irritable bowel syndrome and fibromyalgia

The yeast Candida albicans lives inside every one of us. Normally it presents no problems, but today's widespread use of broad-spectrum antibiotics, antacids, contraceptive pills, and steroids, as well as the all-too-common sugar-rich diet, can lead to a proliferation of this parasitic yeast within the body. Often overlooked by doctors, overgrowth of Candida has been linked to a wide variety of physical and mental problems such as:

• depression
• heartburn
• "brain fog"
• muscular pain
• anxiety
• irritable bowel syndrome (IBS)
• allergies
• menstrual problems
• irritability
• acne
• fibromyalgia
• bloating and constipation
• chronic fatigue
• migraine
• cystitis
• and more . . .

Using the latest research and his decades of clinical experience, Dr. Leon Chaitow explains how to recognize if yeast is your problem and offers a 10-point program for getting it back under control. He reveals how Candida overgrowth occurs and its connection to many common health problems. He explores how to control Candida naturally with enzymes and herbs as well as detailing a sugar-eliminating anti-Candida diet to "starve" existing yeast overgrowth in the body. He explains the importance of probiotics and bitters and how antibiotic treatment as well as inflammation disturbs the balance of normal "friendly" intestinal bacteria, allowing Candida to colonize the gut.

Offering strategies for detoxing after controlling Candida and reducing inflammation, Dr. Chaitow also highlights the importance of rebuilding the immune system to enhance health and help prevent future Candida imbalances.
About the Author
---
Leon Chaitow is a practicing osteopath, naturopath, and acupuncturist who has served as director of postgraduate studies at the British Naturopathic and Osteopathic College and as consulting editor to the Journal of Alternative Medicine. He is the author of several books on health and alternative medicine for both lay and professional readers including The Acupuncture Treatment of Pain, Amino Acids in Therapy, and Candida Albicans. He also lectures internationally.
Praise For…
---
"An excellent book for understanding and fighting against candida-related health problems. A clearly explained, simple to follow, and detailed anticandida program."
— Christopher Vasey, N.D., author of The Acid-Alkaline Diet for Optimum Health and Natural Remedies fo

"If you struggle with candida, the recommendations in this book should help you conquer that challenge."
— Dr. Mercola, founder Mercola.com, world's most visited natural web site