David y Goliat / David & Goliath (Paperback)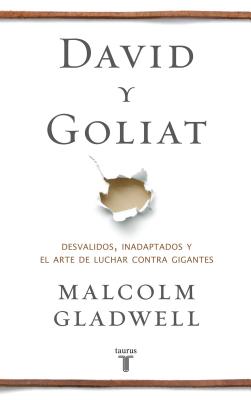 $19.99
Email or call for price.
Description
---
¿Estamos seguros de que el poderoso siempre lleva las de ganar? Un libro magníficamente escrito sobre las poderosas ventajas de lo poco convencional

Hace 3.000 años, en un campo de batalla de la antigua Palestina, un pastor derribó a un poderoso guerrero valiéndose únicamente de una piedra y una honda. Desde entonces los nombres de David y Goliat se han convertido en el símbolo de la lucha entre el desvalido y el gigante. La victoria de David fue inverosímil y milagrosa. No debería haber ganado.¿O sí?

En David y Goliat, Malcolm Gladwellcuestiona el modo en el que pensamos sobre obstáculos y desventajas, ofreciendo una nueva interpretación de lo que significa ser discriminado, vivir con una discapacidad, perder a un padre, tener que ir a una universidad mediocre o sufrir cualquier otro tipo de desgracia.

Gladwell parte de la historia real de lo que sucedió hace siglos entre el gigante y el pastor. Desde ahí, David y Goliat analiza el conflicto de Irlanda del Norte, la mente de los investigadores del cáncer y la de los líderes de los derechos civiles, el alto precio de la venganza y la dinámica de las clases que obtienen buenos resultados, y de las que no, para demostrar cuánto de lo que hay de bello y de importante en el mundo se origina en el sufrimiento y en la adversidad.

En la tradición de sus anteriores best sellers -Inteligencia intuitiva, La clave del éxito, Fueras de serie y Lo que vio el perro-, Gladwell recurre a la historia, a la psicología, a la ciencia y a su maestría como narrador para dar nueva forma al modo en que concebimos el mundo que nos rodea. ENGLISH DESCRIPTION Three thousand years ago on a battlefield in ancient Palestine, a shepherd boy felled a mighty warrior with nothing more than a stone and a sling, and ever since then the names of David and Goliath have stood for battles between underdogs and giants. David's victory was improbable and miraculous. He shouldn't have won. Or should he have? In David and Goliath, Malcolm Gladwell challenges how we think about obstacles and disadvantages, offering a new interpretation of what it means to be discriminated against, or cope with a disability, or lose a parent, or attend a mediocre school, or suffer from any number of other apparent setbacks. Gladwell begins with the real story of what happened between the giant and the shepherd boy those many years ago. From there, David and Goliath examines Northern Ireland's Troubles, the minds of cancer researchers and civil rights leaders, murder and the high costs of revenge, and the dynamics of successful and unsuccessful classrooms---all to demonstrate how much of what is beautiful and important in the world arises from what looks like suffering and adversity. In the tradition of Gladwell's previous bestsellers---The Tipping Point, Blink, Outliers and What the Dog Saw---David and Goliath draws upon history, psychology, and powerful storytelling to reshape the way we think of the world around us.
About the Author
---
Malcolm Gladwell es redactor de plantilla de The New Yorker desde 1996, y todos los ensayos recogidos en Lo que vio el perro aparecieron primero en las páginas de esa revista. Es autor de tres libros: La clave del éxito; Inteligencia intuitiva: ¿por qué sabemos la verdad en dos segundos?; y Fuera de serie. Por qué unas personas tienen éxito y otras no, David y Goliat, cada uno de los cuales encabezó la lista de bestsellers de The New York Times. Antes de formar parte de The New Yorker, trabajó como reportero en The Washington Post, donde cubrió temas de negocios y ciencia y fue jefe de la oficina de Nueva York. Gladwell nació en Inglaterra, creció en la campiña de Ontario y vive ahora en Nueva York.

www.gladwell.com#N/A