The Rheumatoid Arthritis Cookbook: Anti-Inflammatory Recipes to Fight Flares and Fatigue (Paperback)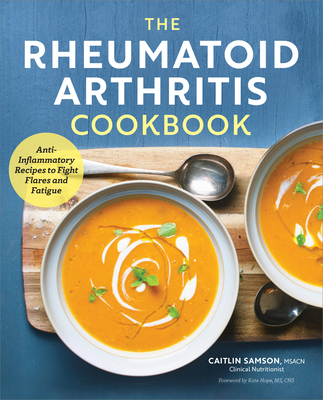 $17.99

Usually Ships in 1-5 Days
Description
---
The revolutionary cookbook for managing rheumatoid arthritis.
Nutrition plays an important role in finding day-to-day relief from joint pain and stiffness.
The Rheumatoid Arthritis Cookbook
is the groundbreaking cookbook for people with RA, written to take control of symptoms through delicious and nutritious meals.
From chia-coconut porridge for breakfast to lamb souvlaki for dinner, these anti-inflammatory recipes prove that food as medicine can taste really good too. Complete with a 2-week meal plan to get started off right, this cookbook makes it easy to fight flares and fatigue
naturally
with the things you eat.
The Rheumatoid Arthritis Cookbook
offers:
A Nutritional Overview—Understand the relationship of food and medicine and how nutrition can relieve the side effects of rheumatoid arthritis medications.
A 2-Week Meal Plan—Get started right away, with guidelines for modifying calories to lose or gain weight.
100 Easy Recipes—Cook up good food that's good for you too with choices for vegetarian and vegan, fish and seafood, poultry and meat, and dessert dishes.
Eating well has the power to make you feel well—
The Rheumatoid Arthritis Cookbook
shows you how.
About the Author
---
CAITLIN SAMSON, MSACN, is a Clinical Nutritionist and Exercise Physiologist based in Atlanta, Georgia. She is the owner and founder of True Food and Wellness, which provides nutritional services to patients living with autoimmune diseases, digestive complications, Lyme disease, diabetes, and other chronic health conditions.
Praise For…
---
"The Rheumatoid Arthritis Cookbook is absolutely a must-have. The variety of recipes allows for a wonderful and exciting meal plan. In addition to providing encouragement for establishing a healthy mind-body connection, Caitlin does a superb job of explaining the powerful scientific connection between the foods you consume and your health. I am definitely recommending this program to my clients and friends who live with RA."
—Karen L. Schuster, MS, CHC, founder of Applied Functional Wellness

"A thorough and thoughtful look into the impact of nutrition on RA. This cookbook is a wonderful balance of knowledge and tasty recipes. Caitlin presents a hopeful and inspiring journey to wellness based on her own life experiences. As a Clinical Social Worker, I also appreciated the mind/body connection that this book speaks to. I can't wait to get cooking!"
—Katie Janik, LCSW

"The Rheumatoid Arthritis Cookbook provides great knowledge to those that suffer from RA and any autoimmune disorder in general. The book is comprehensive and well written for the everyday reader with helpful tips, grocery lists, and easy recipes with inexpensive, normal ingredients. A refreshing read to take control of your own health naturally through proper nutrition and not pharmaceutical intervention."
—Kiersten Ryndak, PT