SumoPuppy (Hardcover)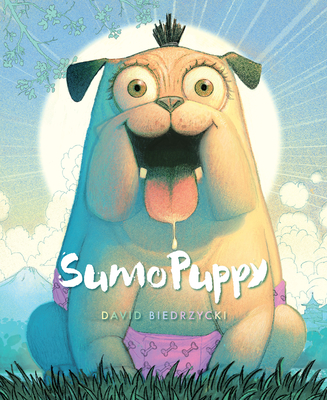 $18.99

Usually Ships in 1-5 Days
Description
---
A funny and read-aloud worthy sequel to the best-selling SumoKitty brings two unlikely friends together in this hilarious dog-meets-cat adventure perfect for pet lovers.

SumoKitty has taken on an apprentice--but can this eager puppy truly learn the ways of a feline?

SumoKitty tries his best to teach an eager but undisciplined puppy the feline ways of catching mice. But this rambunctious newcomer doesn't seem cut out for the job. She drools, snores, and chases away the mice with her constant barking! Can she find a place in the sumo stable--and in SumoKitty's heart?




About the Author
---
David Biedrzycki is the author and illustrator of Invasion of the Unicorns, SumoKitty, and Groundhog's Runaway Shadow, as well as the Breaking News series; the Me and My Dragon series; and the Ace Lacewing, Bug Detective series. He has also illustrated many picture books, including The Beetle Alphabet Book and Dory Story. David lives in Massachusetts.
Praise For…
---
♦SumoKitty is back with her wise pal Kuma, the grand champion at a sumo training center. Kuma has settled into ateaching position; older now, SumoKitty wishes to "catnap more and chase mice less." But when a puppy, Chanko, isintroduced into their midst, this comfortable existence changes. SumoKitty tries to teach Chanko about cat life; allChanko wants to do is play. The book's graphic novel illustrations pop with silly, lovable pet expressions and hijinks inthis zany tale about unexpected friendships.

—Foreword, starred review


A new fur baby attempts to earn her place in the heya.

Following the misadventures of SumoKitty (2019), the black-and-white feline diligently watches over the heya, or training center, alongside Kuma, the yokozuna, or grand champion. While they both have grown in skill—Kuma in sumo, the cat in hunting for mice—the friends are older now and want to pass down their knowledge. While Kuma is already busy teaching, SumoKitty longs for a student, lamenting that kittens live too far away, "on the other side of the river." Surprisingly, a pug puppy dubbed Chanko-chan is brought to the heya. Chanko-chan quickly chooses SumoKitty as her target of affection; a montage of the annoyances the kitty endures ensues. SumoKitty attempts to teach the pup to catch mice, with disastrous results, and Chanko-chan is kicked out. But the little dog's dedication and bravery are unmatched, and she finds a way to prove herself to the sumo wrestlers. The spare narrative leaves most of the humor and emotional arc of the story to the detailed illustrations. Cool colors are juxtaposed with warmer tones, and while the humans are depicted realistically, the animals have a more cartoonish look, especially bug-eyed Chanko-chan. The tale is set in Japan, and Japanese terms are interspersed throughout, along with definitions. 

A sweet and silly tale of a raucous yet deeply courageous pup.

—Kirkus Reviews