Lurkers (Paperback)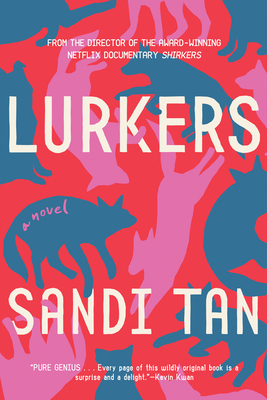 $16.00

Usually Ships in 1-5 Days
Description
---
From author and filmmaker Sandi Tan, director of the acclaimed documentary Shirkers, comes a novel about a neighborhood of immigrants, seekers, lovers, and lurkers.

The residents of Santa Claus Lane do their best to stay out of each other's way, but desire, fury and mischief too often propel these suburban neighbors to collide. Precocious Korean American sisters Mira and Rosemary find their world rocked by a suicide, and they must fight to keep their home; a charismatic and creepy drama teacher grooms his students; a sardonic gay horror novelist finds that aging is more terrifying than any monster; and a white hippie mom and her adopted Vietnamese daughter realize that their anger binds them rather than pushes them apart. Lurkers is an homage to the rangy beauty of Los Angeles and the surprising power that we have to change the lives of those around us.
About the Author
---
Sandi Tan
was born in Singapore. She directed the Netflix film
Shirkers
, which won a Directing Award at the Sundance Film Festival, was named Best Documentary by the Los Angeles Film Critics Association, and was shortlisted for the Oscar for Best Documentary.
The Black Isle
was her debut novel. She's lived in Los Angeles for 20 years but everyone still thinks she lives in New York.
Instagram: @_sanditan_  
Praise For…
---
Praise for Lurkers

"How is Lurkers simultaneously hilarious and horrifying? I'll tell you how: PURE GENIUS. Sandi Tan populates Santa Claus Lane, her leafy corner of suburban LA, with such viscerally original characters that I found myself laughing at their outrageousness while nodding at their familiar humanity. Every page of this wildly original book is a surprise and a delight."
—Kevin Kwan, bestselling author of Crazy Rich Asians

"Completely original and unpredictable . . . Sandi Tan is one of the freshest voices out there."
—The Today Show

"Riveting storytelling opens a portal into the private lives of a diverse and remarkable cast of characters."
—Time

"Lurkers affirms Tan as a deft and impressively rangy storyteller with an unfettered imagination, eager to flay open the more disturbing aspects of human nature and suffering . . . Part of the pleasure of reading Lurkers is the queasiness of parsing the darkly comic from the just plain dark."
—GQ

"The themes that commonly occupy [Tan's] work remain consistent: the celebration of adolescence as a time of bold, uninhibited experimentation; the desire to shrink from the 9-to-5 world in favor of the land of dreams, and the delights of sui generisself-creation . . . Tan scans America with the eye of someone who is inside the fold enough to speak its language, but can also pick apart a culture from the outside." 
—The Nation

"Darkly funny."
—Woman's Day

"Sandi Tan's Lurkers is an acid-etched American Beauty for our current moment. But rather than suburban white male dread, Lurkers excavates the deeper mysteries and dark humor of female desire and a cultural and existential desperation so heavy it takes both tragedy and catastrophe to root it loose. A sneaky marvel of a novel and not to be missed."
—Megan Abbott, bestselling author of Give Me Your Hand

"The sheer chaotic energy of Lurkers belies a considerable degree of control and
structure . . . Yet Lurkers has a surprisingly endearing ending you wish you could see more of. This slice of sunshine noir possesses its own demented charm."
—The Straits Times

"Lurkers shifts kaleidoscopically between the residents of Santa Claus Lane . . . This narrative rotation allows the reader to see all characters from all vantage points—like peering out of an open window onto the street, blessed with total omniscience."
—Hazlitt

"Spanning generations living on the Los Angeles street of Santa Claus Lane, Lurkers interweaves the closed-off lives of neighbors to braid a rich tapestry of place and how that becomes unwittingly shaped and colored by those around us."
—Thrillist 

"These characters propel the narrative forward and are simultaneously repulsive and fascinating . . . They are layered, well-observed, and often flawed, but always in ways that are wince-inducingly recognizable."
—PopMatters 

"The book unfolds as a series of episodic character studies among the denizens of Santa Claus Lane, an idyllic-seeming suburban neighborhood in Los Angeles. The eclectic cast of characters and Tan's vivid-yet-unassuming style play like a magic trick, and the way the characters' lives eventually come together is all the more poignant for its unexpectedness."
—The Arts Fuse

"Lurkers is a heartbreaking delight. The intricately woven stories and characters here are funny and horrifying, weird and wise. I tore through this novel—Tan is a visionary with an imagination I would follow anywhere."
—Kate Elizabeth Russell, author of My Dark Vanessa

"A magisterial triumph from the inimitable Sandi Tan, Lurkers is brimming with sinister pathos and dead-on, laugh-out-loud observations."
—Elif Batuman, author of The Idiot

"I loved Shirkers and I now love Lurkers . . . Briskly entertaining and genuinely funny, there's something funny or weird or crushing on practically every page."
—Ed Park, author of Personal Days

"Lurkers is a remarkable book. It's funny, sad, vicious, generous, at times genuinely scary, at times absolutely heartbreaking—often, all on the same page. Sandi Tan somehow manages to perfectly capture the twisted, infuriating, beautiful soul of Southern California in the mid-aughts with all its seemingly irreconcilable contradictions . . . The fictional inhabitants of Santa Claus Lane are so well wrought that you find yourself convinced that if you just drove around long enough, you might find them hanging around in a living room or a liquor store just outside of LA."
—Justin Kuritzkes, author of Famous People

"A sharp-eyed exploration of the influence of people and place on us all and considersthe importance of home."
—Booklist

"Tan carefully builds Alta Vista's intersecting lives and smoothly taps into three generations of voices . . . Tan's powers of observation make this outing worthwhile."
—Publishers Weekly

Praise for The Black Isle

"The Black Isle is an elegant, disturbing and satisfying read, both epic and intimate."
—Los Angeles Times

"Beautifully written, with a storyline that spans 70 years, The Black Isle is a historical novel that is both breathtaking and haunting."
—The Philadelphia Inquirer

"Mesmerizing . . . A gripping historical novel . . . Tan's imagination seems boundless."
―Publishers Weekly, Pick of the Week
 
"A young woman grows old with the twentieth century, haunting her own life as history conspires to render her a secret. Sweeping in scope, impressively imagined, ruthlessly readable."
―Steve Erickson, author of These Dreams of You