Black Heroes: A Black History Book for Kids: 51 Inspiring People from Ancient Africa to Modern-Day U.S.A. (People and Events in History) (Paperback)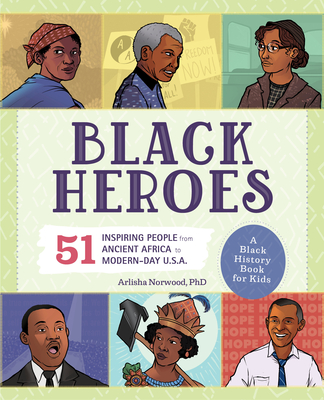 $14.99

Usually Ships in 1-5 Days
Description
---
Meet extraordinary black heroes throughout history―biographies for kids ages 8 to 12 
You're invited to meet ancient Egyptian rulers, brilliant scientists, legendary musicians, and civil rights activists―all in the same book!
Black Heroes
introduces you to 51 black leaders and role models from both historical and modern times. This black history book for kids features inspirational biographies of trailblazers from the United States, Egypt, Britain, and more.
Discover where in the world they lived, and what their lives and families were like growing up. Learn about the obstacles they faced, such as escaping slavery, on the way to making groundbreaking accomplishments. You'll find out how these inspirational figures left a legacy of lasting change―and paved the way for future generations.
Black Heroes: A Black History Book for Kids
features:
FASCINATING BIOGRAPHIES: Read about famous icons like Dr. Martin Luther King, Jr. and Harriet Tubman, as well as lesser-known pioneers like aviator Bessie Coleman and astronomer Benjamin Banneker.
COLORFUL PORTRAITS: Bring the historical heroes to life in your imagination with the help of full-color illustrations.
WAYS TO LEARN MORE: Every biography includes an idea for a new way to explore the person and their work, like a book to read, website to visit, or video to watch.
Black Heroes
goes beyond other black history biographies for kids to highlight people from around the world and across time. Who will your new hero be?
About the Author
---
ARLISHA NORWOOD ALSTON, PhD, is a historian, researcher, and social justice advocate. She received her PhD in history from Howard University. She has published several children's books, including The Story of Ruby Bridges and Black Heroes: A Black History Book for Kids: 51 Inspiring People from Ancient Africa to Modern-Day U.S.A.
Praise For…
---
"From the kings and queens of Africa to the movers and shakers of the present day, Black Heroes captures the true essence of the Diaspora and its impact around the globe. Whether you are a novice, a historian, or just a historian at heart, this text should be included in your personal library. Its colorful and detailed imagery captures the attention of the youngest of readers, yet its content is relevant for all." —Samantha Knox, Ed.D., LPC, LCPC, NCC/Owner of Aya Behavioral Health LLC

"There is such a need for this specific kind of learning for youth right now. This book essentializes African American leadership and activism in the way only a scholar rooted in Black institutional education can. Dr. Norwood has synthesized some names we know with many we should and illuminated the important linkages between them all. I am very excited to share this book with the young people in my family." —Kimberly Brown Pellum, Ph.D., Assistant Professor of History at Florida A&M University and Author of Black Beauties: African American Pageant Queens in the Segregated South

"As a teacher, many of the kids I teach are minorities. I can attest that this book is a game changer in the libraries of educators and families alike. It is filled with short bios of acclaimed individuals of highly melanated descent and—spoiler alert—some of them you possibly have never heard of! This book comes with easy-to-grasp passages and references for each individual to further educate you. I believe that this book will educate all of our youths, inspire their inventiveness, and instill a sense of pride to know that, just like those before them, they are all destined for greatness in the skin that they are in." —Cambria Hammond, First Grade Lead Teacher