Urban Foraging: Find, Gather, and Cook 50 Wild Plants (Hardcover)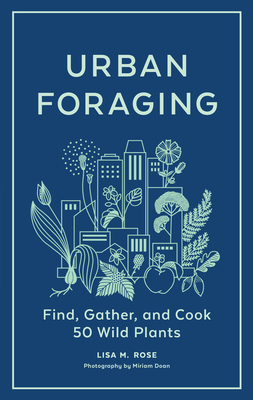 $20.00

Usually Ships in 1-5 Days
Description
---
Your city is full of wild food, you just need to know where to find it.

Take a stroll to discover the ingredients for a wild apple tarte tatin. Turn the lilac bush found in a vacant lot into a delicious, delicately flavored jelly for your morning pastry. Discover a new way to feast on fresh food. Urban Foraging is a stylish, scrumptious guide to wildcrafting in the city. You'll learn how to find, identify, harvest, and cook with 50 common wild plants, such as chickweed, dandelion, echinacea, honeysuckle, red clover, and pine. Expert forager Lisa M. Rose shares all the basics necessary for a successful harvest: clear photos that aid identification, tips for ethical and safe gathering, details on culinary uses, and simple recipes will help you make truly fresh, nutritious meals. 
 
About the Author
---
Lisa M. Rose is an herbalist and forager with a background in anthropology and a professional focus on community health. Her interest in ethnobotany and herbal medicine has taken her to study plants, people, health, and their connection to place internationally. Rose leads foraging plant walks and teaches classes on edible and medicinal wild plants. She forages for her own family, herbal apothecary, and community herbalism practice.
Miriam Doan is a visual storyteller and creative producer who hails from the Great Lakes region. Throughout her career as a photographer and producer, she has documented global healthcare initiatives to capture impact and inspire action. To begin work in her own community, she began an urban flower farm in Chicago, offering a one-mile bouquet to seasonal subscribers during the summer. Here, she discovered a love for capturing movement, connection, design, and color in the natural world. She continues her work in health care, while deepening her discovery of nature and our continual desire to rearrange it. Recent work featured in: The Guardian, Now This, National Geographic, BBC World News, ABC News, New City, Chicago Reader, Chicago Social, NPR, Harvard T.H. Chan School of Public Health Online Journal, Rotary.org, The Rotarian Magazine and Rotary International World Polio Day (2018 Shorty Award), Global One: Women on the Frontlines Photography Exhibit & Artist Panel, Asia House - London, Seattle K5, Atlanta Journal., CNET, ONE LAST PUSH campaign.
Praise For…
---
"Readers will wish they could take a walk with the deeply knowledgeable Rose and learn from her in the field." —Library Journal

"The perfect gift for hands-on foodies who prefer gathering to grocery shopping."—First for Women

"The book provides a jumping off point for readers—a way to learn and enjoy the flavors of wild plants."—Civil Eats

"Herbalist and expert forager Lisa M. Rose offers guidance on safely identifying, gathering and preparing edible flora that grow wild in most major US cities."—CNN