The Hourglass Throne (The Tarot Sequence #3) (Paperback)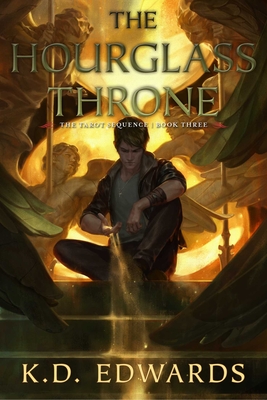 $23.95

Usually Ships in 1-5 Days
Other Books in Series
This is book number 3 in the The Tarot Sequence series.
Description
---
As Rune Saint John grapples with the challenges of assuming the Sun Throne, a powerful barrier appears around New Atlantis's famed rejuvenation center. But who could have created such formidable magic . . . what do they want from the immortality clinic . . . and what remains of the dozens trapped inside?

Though Rune and his lifelong bodyguard Brand are tasked with investigating the mysterious barrier, Rune is also busy settling into his new life at court. Claiming his father's throne has irrevocably thrown him into the precarious world of political deception, and he must secure relationships with newfound allies in time to keep his growing found family safe. His relationship with his lover, Addam Saint Nicholas, raises additional political complications they must navigate. But he and Brand soon discover that the power behind the barrier holds a much more insidious, far-reaching threat to his family, to his people, and to the world.

Now, the rulers of New Atlantis must confront an enemy both new and ancient as the flow of time itself is drawn into the conflict. And as Rune finds himself inexorably drawn back to the fall of his father's court and his own torture at the hands of masked conspirators, the secrets that he has long guarded will be dragged into the light—changing the Sun Throne, and New Atlantis, forever.

The climax of the first trilogy in the nine-book Tarot Sequence, The Hourglass Throne delivers epic urban fantasy that blends humor, fast-paced action, and political intrigue.
About the Author
---
K.D. Edwards is the author of The Last Sun, book one of the Tarot Sequence. He lives and writes in North Carolina, but has spent time in Massachusetts, Maine, Colorado, New Hampshire, Montana, and Washington State. (Common theme until NC: Snow. So, so much snow.) Mercifully short careers in food service, interactive television, corporate banking, retail management, and bariatric furniture have led to a much less short career in higher education, currently for the University of North Carolina System.
Praise For…
---
Edward's third "Tarot Sequence" novel (after The Hanged Man) builds on an intriguing alternate Earth filled with magic and political intrigue. This urban fantasy series is immersive and entertaining.
— Library Journal (Starred Review)

Weaving intricate politics, fast action, and high magic with the powerful themes of loss and found family, K.D. Edwards' Tarot Sequence burns even hotter in the Hourglass Throne. Just when you think you've got a handle on where the plot is going he detonates another surprise or reveals a world-changing secret in his long game. Don't sleep on this series. I can't wait to see where it goes.
— David R. Slayton, author of the Adam Binder Novels

At no time did I ever believe he could improve upon perfection as I felt The Hanged Man was the perfect book. I still hold that to be true. What I did not expect was for him to redefine it, and he has done so with the thrilling and gut-wrenching The Hourglass Throne.
— Ben Ragunton of The Two Gay Geeks Podcast