WORKBOOK for High Reliability Organizations, Second Edition: A Healthcare Handbook for Patient Safety & Quality (Paperback)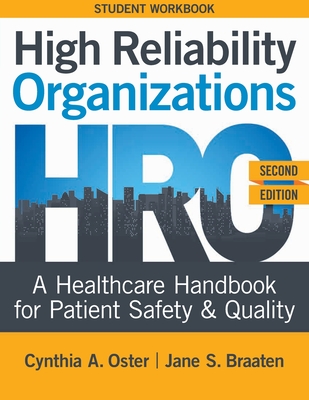 $29.95

Usually Ships in 1-5 Days
Description
---
ABOUT THE STUDENT WORKBOOK
As a student in a healthcare profession, you have probably heard of the concept of high reliability as a means to reduce harm, enhance quality, and improve outcomes. Patient safety and quality are of increasing importance to consumers, payers, providers, and organizations. As a large majority of the workforce, nurses are on the front lines of the delivery and provision of safe and effective care. The quest for high reliability must permeate an organization by way of leadership commitment, a culture of safety, continuous quality improvement, and every person's focus within the organization. This student workbook is designed as a companion to the primary textbook, High Reliability Organizations: A Healthcare Handbook for Patient Safety & Quality (2nd ed.), which explains how high reliability contributes to organizational quality and safety, recommends quality and safety activities based on high reliability principles, and integrates high reliability principles into healthcare practice.
PURPOSE AND STRUCTURE
The purpose of this workbook is to provide learning activities that relate to each chapter in the book. These learning activities introduce students to high reliability, explain the concepts of high reliability and high reliability organizations (HROs), provide examples of what the concepts would look like in
everyday practice, and describe the information and tools nurses and other healthcare providers need for the organization to become an HRO. The first 26 chapters provide one accompanying learning activity, whereas the last five chapters provide context for the summative or final learning activity.
Every learning activity reflects the content of its accompanying chapter. Students should read the chapter and supplemental materials and, if specified, focus on certain sections within the chapter prior to completing an exercise. Students may complete all these learning activities, but some instructors may choose only one or two from each chapter that meet the objectives of a particular course. Each learning activity begins with objectives, contains accompanying resource material or additional external resources, and has learning activity exercise-specific instructions. Nurses represent the majority of healthcare workers and are on the front lines of delivery and provision of safe and effective care. As a result, nurses are ideally situated to drive the mission to achieve high reliability in healthcare. It is our hope that the student workbook will prepare you to apply HRO principles to patient safety and quality problems in your place of practice because we all benefit from a safer healthcare environment.