The Ever Storms (Wilderlore #3) (Hardcover)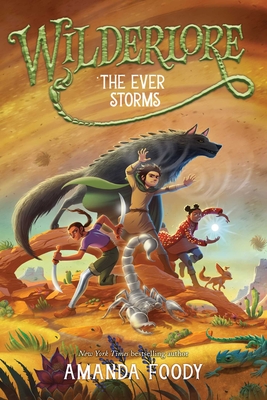 $17.99

Usually Ships in 1-5 Days
Other Books in Series
This is book number 3 in the Wilderlore series.
Staff Reviews
---
Amanda Foody's WILDERLORE series is an example of everything MG fantasy should be: endearing, engaging characters; vivid action and adventure; all set in a wondrously immersive world. While that has all been present since THE ACCIDENTAL APPRENTICE, THE EVER STORM goes one further and includes the long-beloved trope of a magical school that is executed with sparkling originality and all of your favorite characters from the first two books.
Foody has a gift for deftly interweaving thrilling adventure with sensitive, heartfelt explorations of deeply resonant themes like what true friendship means, how have a flexible and resilient sense of self, the importance of acknowledging mistakes and learning from them, and, in this book, the myriad beautifully unique forms family can take. 
Families can be complicated and messy but the concept of family is simple: people who love each other and would do anything for each other.  Those people can be related by blood or marriage, choice or circumstance but they share failures and triumphs, hopes and fears, and willingly carry each other's burdens. Barclay may be an orphan but he has one of the best families and it fills the heart (and occasionally the eyes) to watch him begin to realize the love that surrounds him.
If you enjoyed the first two books, then this one will not disappoint; if you haven't started the series yet, then it's time to dive in and enjoy one of the best series out there because Foody is only getting better.
— Jordan
January/February 2023 Kids Indie Next List
---
"My favorite ongoing middle grade series keeps getting better and better! I loved this continuation of Barclay's adventure in the Wildlands. The school setting was a blast and the prank war Tourney added a fun twist! I can't wait for more."
— Mary Louise Callaghan, Bookmarks, Winston-Salem, NC
Description
---
Barclay and his friends find new dangers and fresh adventure when they encounter mysterious sandstorms in the Desert in this "engaging, dragon lover's fantasy" (School Library Journal) that's the third book of the New York Times bestselling Wilderlore series.

After saving the Sea, Barclay and his fellow apprentices are eager to take part in a new kind of adventure—the Symposium, a set of courses that all apprentices of the Lore Keeper Guild need to pass before they can take their licensing exam. Barclay is excited to travel to the Desert to study at the University of Al Faradh, the most respected school in all the Wilderlands, and to reunite with the new friends he made at the Sea.

He's slightly less excited about the Tourney, the traditional, good-natured prank war between the various apprentice tracks. As an Elsie, he's pretty sure he'll have enough on his hands keeping up with the Symposium without having to worry about stink bombs and slime warfare.

But as mysterious, unnatural sandstorms start to appear around the Desert, there are more than just exams and bragging rights at stake. And the appearance of an exclusive, magical library might just be the key to everything…
About the Author
---
Amanda Foody is a New York Times and indie bestselling author of YA and children's fantasy novels, including the Wilderlore series, the All of Us Villains duology, the Shadow Game series, and more. She lives in Massachusetts with her partner and their feline Beastly companion, Jelly Bean. Visit her at AmandaFoody.com or on Instagram @AmandaFoody.