The Dialectical Behavior Therapy Skills Workbook for Psychosis: Manage Your Emotions, Reduce Symptoms, and Get Back to Your Life (Paperback)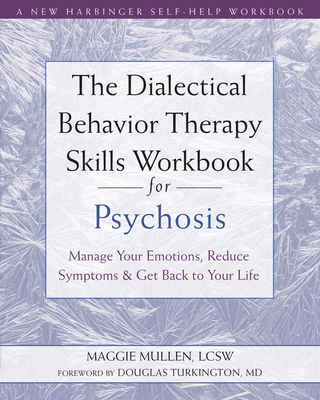 $19.95

Usually Ships in 1-5 Days
Description
---
Powerful and effective skills to help you manage psychosis, take charge of your emotions, and get back to living your life.
Based in dialectical behavior therapy (DBT), this first-of-its-kind workbook offers real skills to help you balance your emotions and stay grounded in reality. You'll find self-assessments, worksheets, and guided activities to help you understand your symptoms and manage them in day-to-day life. You'll also gain self-awareness, learn to navigate difficult or stressful situations, and discover healthier ways of interacting with others.
If you have a history of psychosis or suffer from psychotic spectrum disorder, you know how difficult it can be. You may experience paranoia, auditory hallucinations, and emotional dysregulation. In addition, you may feel alienated from your friends and family if they have trouble understanding what you're going through. The good news is that you can move beyond the stigma of psychosis, regain hope, and rebuild your life. This compassionate workbook will help you get started.
In this workbook, you'll learn the core skills of DBT to help you feel better:
Mindfulness
Distress tolerance
Emotion regulation
Interpersonal effectiveness
You'll also find important information on relapse prevention--including warning signs to watch out for, what to do if you have another episode, and an extensive resource list to help you manage your symptoms. And finally, you'll find a wealth of practical tools that can be used every day for long-lasting psychosis recovery.
About the Author
---
Maggie Mullen, LCSW, is a clinical social worker, national trainer, and community activist with over a decade of experience helping people navigate psychosis. They specialize in culturally responsive, evidence-based care for psychotic spectrum disorders, trauma, post-traumatic stress disorder (PTSD), the LBGTQ+ community, and formerly incarcerated people. As a training director at Kaiser Permanente, they take great pride in mentoring and teaching the next generation of social workers. Maggie lives in Oakland, CA, with their spouse and two cats. You can find out more online at http: //maggiemullen.org. Foreword writer Douglas Turkington, MD, is a major research figure within the history of the development of cognitive behavioral therapy (CBT) for schizophrenia. He is a fellow of the Royal College of Psychiatrists, and founding fellow of the Faculty of Cognitive Therapy in Philadelphia, PA. He has written more than one hundred articles and more than half a dozen books on the subject of CBT for psychosis. Turkington lives in Newcastle, England.