I Hate You More (Paperback)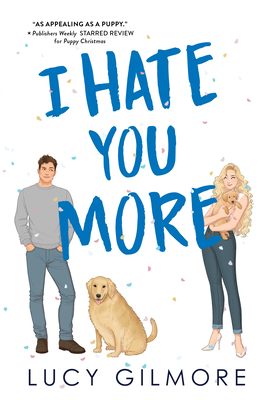 $15.99

Usually Ships in 1-5 Days
Description
---
Discover what makes Lucy Gilmore an instant fan favorite with this unforgettably funny enemies-to-lovers romcom starring a grumpy dog show judge, a determined former beauty queen, and a Golden Retriever more interested in stealing bacon than winning Best in Show.
Ruby Taylor gave up pageant life the day she turned eighteen and figured she'd never look back. But when an old friend begs her to show beloved Golden Retriever Weezy at the upcoming Canine Classic, Ruby doggedly straps on her heels and gets to work.
If only she knew exactly what the adorably lazy lump of a dog was getting her into.
If there's one thing veterinarian Spencer Wilson knows in this world, it's dogs. Human beings are a different story. Especially gorgeous women clearly in way over their heads. As judge for the local dog show, Spencer advises Ruby to quit while she still can, but her old fervor for winning has returned—and she wants to show the stern, broody-eyed judge that she's more than just a pretty face. In the end, she'll show him who's best in show.
"AS APPEALING AS A PUPPY."—Publishers Weekly STARRED for Puppy Christmas
About the Author
---
Lucy Gilmore is a celebrated novelist in a wide range of genres, including literary fiction, contemporary romance, and cozy mystery. She began her reading (and writing) career as an English literature major and ended as a book lover without all those pesky academic papers attached.
She lives in Spokane, WA with her family.
Visit her online at www.LucyGilmore.com
Praise For…
---
"Entertaining" — Kirkus Reviews

Rom-com fans will laugh out loud… Gilmore's sexy, snarky rom-com takes the crown, humorously showcasing winning dynamics of dysfunctional families and quirky romantic relationships.