Love Always, Christmas: A feel-good Christmas romance from writer of Netflix's A Christmas Prince (Paperback)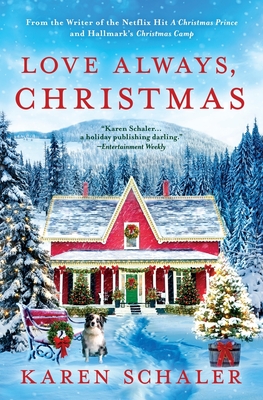 $16.99

Usually Ships in 1-5 Days
Description
---
From Karen Schaler, the three-time Emmy Award-winning writer of Netflix sensation A Christmas Prince and Hallmark's Christmas Camp, the movie and novel, comes a sparkling new Christmas romance filled with humor, heart, and hope.
Libby is planning to spend the holidays alone until a mysterious Christmas card takes her on a life-changing journey where she discovers a family she didn't know she had and a love she was never expecting to find...
Libby Larson's Christmas wish is to get the holidays over as fast as possible. After losing her mom, her only family, she's bah humbugging Christmas, while desperately trying to save her childhood Seattle home.
But when Libby finds a twenty-year-old unopened Christmas card addressed to her mom, what she discovers inside takes her to the snowy mountain town of Holly Peak.
As family secrets start to unravel, Libby must rely on Holly Peak's handsome town manager, Adam Thompson, to help her find answers while reluctantly participating in the town's quirky Christmas traditions.
In the midst of merrymaking and mistletoe, Libby's life is forever changed when this Christmas brings her the gift of a family and true love.
Bonus Content: Includes exclusive Christmas recipes from Love Always, Christmas.
LOVE ALWAYS, CHRISTMAS is an uplifting, feel-good Christmas romance that will appeal to fans of Debbie Macomber, Susan
Mallery, RaeAnne Thayne, and Christina Lauren.
5-Star Reviews Readers & Reviewers are Falling in Love with Karen Schaler's Christmas Romances
"How A Christmas Prince Netflix] screenwriter Karen Schaler became a holiday publishing darling." -Entertainment Weekly
"Karen Schaler writes stories that are bursting with Christmas charm " - Jenny Hale, USA Today bestselling author.
"I loved this book It had a story that was just a joy to read, but also had such heart, and humor and an abundance of Christmas " Patricia R - Goodreads
"This book was everything for my Christmas loving heart. I smiled, laughed, and even teared up as I read through this story connecting with the people and the town. I could picture the characters so clearly and the ups and downs they faced throughout the book kept me reading right to the end.... It's a journey I'll return to every year." Eric M - NetGalley
"A beautiful story about life, love, and family. Second chances in life are hard to find but they feature prominently here as does Christmas. I loved this book. Devoured in one day." Peggy D - Goodreads
"Karen Schaler has Christmas down pat, and each of her stories is unique in its own right This one has all the small-town feels, with a cozy mystery, and a clean romance thrown in. There are twists and turns up to the very ending." Yvie F - NetGalley
"LOVE ALWAYS, CHRISTMAS was so much fun I love Christmas books that throw tinsel at a tree in big handfuls and Karen Schaler's books always hit the mark Enjoyed this one 5/5 stars." Kat K - Library Thing
"This was absolutely delightful. The plot was well-paced and captivating from start to finish. The characters were charming and witty. I highly recommend this fun and quick holiday read Jessica M - NetGalley