The Sundering (Warhammer Chronicles #4) (Paperback)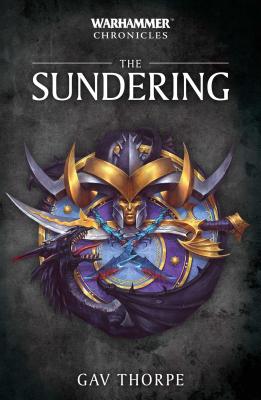 Description
---
The ancient history of the elves is revealed in one incredible, century-spanning omnibus edition.

Malekith, betrayer and usurper, architect of the great war that will forever divide the race of elves. Alith Anar, wrathful avenger whose spirit will forever haunt the traitorous druchii. Caledor, reluctant leader, the one elf who can hold back the darkness and restore peace to Ulthuan. Witch King, Shadow King and Phoenix King. Their deeds are legend. This is their story... This mighty omnibus collects together the full account of the war that divided a race and changed the Warhammer World forever, and contains the novels Malekith, Shadow King and Caledor, along with several bonus short stories.
About the Author
---
Gav Thorpe is the author of the Horus Heresy novels Deliverance Lost, Angels of Caliban and Corax. He is particularly well known for his Dark Angels stories, including the Legacy of Caliban series and the Space Marine Legends novel Azrael. His Warhammer 40,000 repertoire further includes the Path of the Eldar trilogy, The Beast Arises novel The Beast Must Die, and the Phoenix Lords novels Asurmen and Jain Zar. Gav has also penned many Warhammer fantasy novels, including The Sundering trilogy and the End Times novel The Curse of Khaine. For the Warhammer Age of Sigmar setting, he is the author of the novel Warbeast in the Realmgate Wars series. He lives and works in Nottingham, UK.