Hammerhal (Black Library Summer Reading #5) (Paperback)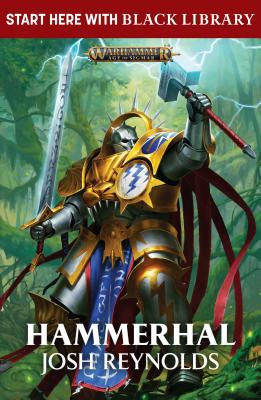 Description
---
The Stormcast Eternals of the Hallowed Knights must uncover the mystery of the Hexwood before it brings the great city of Hammerhal to ruin.

Dark forces stir within the bowers of the mysterious Hexwood. A great warhost of tzaangor beastkin, creatures devoted to the Chaos god Tzeentch, defile the once-verdant lands of Ghyran. All that opposes them are the Stormcast Eternals of the Hallowed Knights, noble warriors reforged in resplendent sigmarite and wielding the lightning of Azyr. But Tzeentch's followers are cunning, and as the Hallowed Knights wage bloody war in the forests, a secret and potentially ruinous attack on the great city of Hammerhal, which the Stormcasts are oath-sworn to protect, is about to begin. Both the warriors without and the hunters within the city must act fast, or the truth about the Hexwood will be the undoing of the Twin-tailed City.
About the Author
---
In addition to numerous Warhammer 40,000 novellas and short stories, Josh Reynolds is the author of the Fabius Bile series – beginning with the novel Primogenitor – and the Primarchs novel Fulgrim: The Palatine Phoenix. For the world of Warhammer fantasy, he has written the End Times novels The Return of Nagash and Lord of the End Times, the Gotrek & Felix novels Road of Skulls and The Serpent Queen, and the Time of Legends novels Neferata and Master of Death. He has also written a number of stories set in Warhammer's new Age of Sigmar fantasy setting, including the Stormcast Eternal novels Black Rift and Plague Garden, and the first in the Eight Lamentations series, Spear of Shadows. He lives and works in Northampton, England.