Masters of Stone and Steel (Warhammer Chronicles) (Paperback)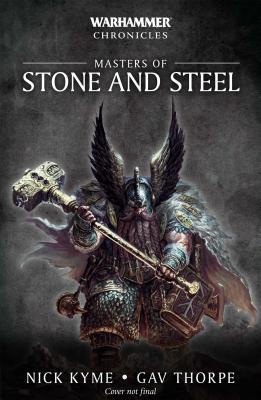 Description
---
This omnibus of epic Dwarf themed novels contains the following:

The Doom of Dragonback (novel)
Grudgebearer (novel)
Oathkeeper (novel)
Honourkeeper (novel)
'Ancestral Honour', 'City of Dead Jewels' (short story)

The dwarfs are a stoic and long-lived race. Their unbending will and pride serve them as fearsome warriors on the battlefield and the greatest craftsmen across the Old World. But cross them at your peril, as a dwarf grudge is never forgotten, a quest for revenge handed down from generation to generation until the debt is settled in blood - In this action-packed omnibus, the bravery and resilience of the dwarfs is brought to life as they wage war against the twisted powers of Chaos, vile skaven ratmen, brutal orcs, cunning goblins and their oldest adversaries, the mysterious and powerful elves. From the ancient dwarf holds, in the wake of the War of Vengeance to the killing fields of the Empire, battle will be fought in the name of Grungni, Grimnir and Valaya, and no foe shall forget the day they met these unbreakable warriors in battle. Contains the novels Grudgebearer, Oathbreaker, Honourkeeper and The Doom of Dragonback.
About the Author
---
Nick Kyme is the author of the Horus Heresy novels Old Earth, Deathfire, Vulkan Lives and Sons of the Forge, the novellas Promethean Sun and Scorched Earth, and the audio dramas Red-marked and Censure. His novella Feat of Iron was a New York Times bestseller in the Horus Heresy collection, The Primarchs. Nick is well known for his popular Salamanders novels, including Rebirth, the Space Marine Battles novel Damnos, and numerous short stories. He has also written fiction set in the world of Warhammer, most notably the Warhammer Chronicles novel The Great Betrayal and the Age of Sigmar story 'Borne by the Storm', included in the novel War Storm. He lives and works in Nottingham, and has a rabbit.

Gav Thorpe is the author of the Horus Heresy novels Deliverance Lost, Angels of Caliban and Corax, as well as the novella The Lion, which formed part of the New York Times bestselling collection The Primarchs, and several audio dramas including the bestselling Raven's Flight. He has written many novels for Warhammer 40,000, including Ashes of Prospero, Imperator: Wrath of the Omnissiah, Rise of the Ynnari: Ghost Warrior, Jain Zar: The Storm of Silence and Asurmen: Hand of Asuryan. He also wrote the Path of the Eldar and Legacy of Caliban trilogies, and two volumes in The Beast Arises series. For Warhammer, Gav has penned the End Times novel The Curse of Khaine, the Warhammer Chronicles omnibus The Sundering, and much more besides. In 2017, Gav won the David Gemmell Legend Award for his Age of Sigmar novel Warbeast. He lives and works in Nottingham.