Hallowed Knights: Black Pyramid (Paperback)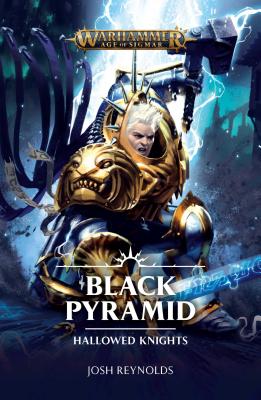 Other Books in Series
This is book number 2 in the Hallowed Knights series.
Description
---
As they spearhead an advance into the Realm of Death, the Hallowed Knights are beset by enemies – including the treacherous Mannfred von Carstein, who may hold the key to saving a long lost soul.

As cities rise across the Mortal Realms, Lord-Celestant Gardus Steel Soul leads his Hallowed Knights into darkest Shyish, hoping to gain a foothold for the forces of Azyr. But as the foundations of a new citadel are laid, the Hallowed Knights find themselves beset by enemies both living and dead – including the Mortarch of Night, Mannfred Von Carstein. Now, Gardus must lead his warriors into the very heart of darkness in order to save the soul of a warrior long thought lost…
About the Author
---
Josh Reynolds is the author of the Horus Heresy Primarchs novel Fulgrim: The Palatine Phoenix, and two audio dramas featuring the Blackshields: The False War and The Red Fief. His Warhammer 40,000 work includes Lukas the Trickster and the Fabius Bile novels Primogenitor and Clonelord. He has written many stories set in the Age of Sigmar, including the novels Shadespire: The Mirrored City, Soul Wars, Eight Lamentations: Spear of Shadows, the Hallowed Knights novel Plague Garden as well as Nagash: The Undying King. His tales of the Warhammer old world include The Return of Nagash and The Lord of the End Times, and two Gotrek & Felix novels. He lives and works in Sheffield.