The Lightcasters (Compact Disc)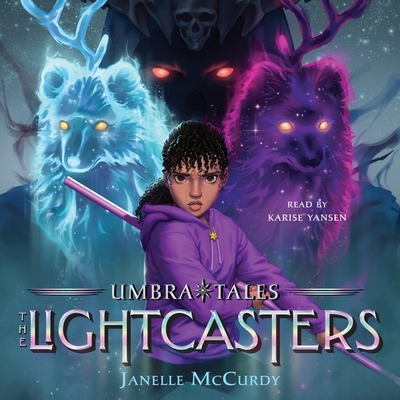 McCurdy's vividly imagined world, one of moonlight and shadows and the fantastical creatures called umbra, is wholly unique and utterly engrossing. That beautiful setting is matched with characters that feel familiar and relatable as they embark on a dangerous mission to save their home from encroaching darkness. 
This story should appeal to fans of the KEEPER OF THE LOST CITIES series and WILDERLORE; and the tantalizing hints of the wider mythos are sure to have readers eager for the next book. 
— Jordan
Description
---
Keeper of the Lost Cities meets Pok mon in this riveting first book in a middle grade series about a girl who embarks on a treacherous journey with her mystical animal companions to save her family--and the entire kingdom.Twelve-year-old Mia McKenna has grown up in the darkness. It's all she's ever known, and she finds comfort in it. Like nearly all the cities in the Kingdom of Lunis, her home of Nubis was plunged into a forever night years ago by the shadowy Reaper King--a figure now only known in nightmares, a cautionary tale warning children to stay safe inside the tall city walls. But all that changes when a mysterious cult storms Nubis, capturing everyone with the ability to protect it--including her parents, the rest of the umbra tamers, and their mystical, powerful creatures made of shadow and starlight. Now, Mia and her brother, Lucas, are the city's only hope of survival, and Mia must learn to harness her umbra taming abilities to stand any chance of saving her city and rescuing her parents. If she can't, she'll lose her soul, and her family, to the Darkness forever.