Food and Exercise Journal for Healthy Living - Food Journal for Weight Lose and Health - 90 Day Meal and Activity Tracker - Activity Journal with Dail (Paperback)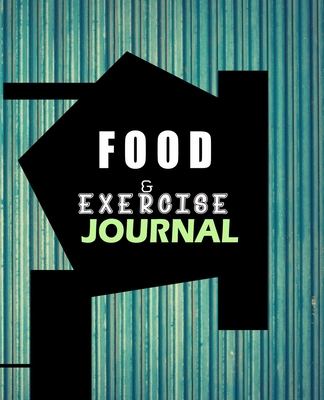 Description
---
Say hello to a healthier and fitter you Keep track of your food and activity with this Food and Exercise Journal
Never loss track of your daily meal and how active you are when you get this portable and convenient food journal everywhere you go
- SIMPLE, CLEAR AND EASY TO USE - Get yourself a food journal that is highly organized and easy to use. Stop using a journal that is complicated and hard to understand. Tracking your food intake and exercise regimen is hard enough, better get a food journal that makes monitoring easy as a breeze.
- KEEP TRACK OF YOUR DIET, EXERCISE AND ACTIVITY - Don't just keep track of your food and exercise, record more than just that Your journey to a healthier you do not only involve food and exercise, it goes so much more. Monitor your water intake, daily activity, your cravings and how you respond to them. Keep track of your sleep pattern, mood, feelings and see your progress and how you can improve yourself.
- 90 DAYS MEAL AND ACTIVITY TRACKER - A 30-month food journal is not enough to see any changes in you nor will a 60-day journal do. Get this 90-day food journal and ensure that your path to healthy living is paved in the right direction. In 30 days you can start forming a new habit and by 60 days you get to enjoy a changing you. By 90 days you have now welcomes a new version of yourself; healthy and happy
- FUN AND INTERACTIVE DESIGN AND CONTENT - Don't just get a basic food journal, get a food journal that is fun and interactive Don't bore yourself with those journals that only has lines and boxes, get yourself a food and exercise journal that has exciting artwork to keep you motivated in your health journey.
- PERFECT SIZE TO CARRY AROUND ANYWHERE - With a 7.5 x 9.25 in size, this food journal perfectly fits inside your small bag, so you can bring them along no matter where you go. Keep track of your food and activity easily even when you are travelling as this journal is easy to carry around.
Here are the reasons why you will love this product:
Organized and Convenient to Use This food journal is made easy just for you. Keep track of your daily food intake with a journal that is clear and easy to use. Plus, its perfect size makes it easy to carry around everywhere you go
Record More Than Just Your Daily Food Intake and Exercise Activity: Keep track of not just your breakfast, lunch, dinner and snacks, record your daily water intake, cravings, sleep and even your mood and feelings
3-Month Diary to Form a New Habit, change your Bad Habit and Maintain the Good Ones: One month is too short to see any changes and 2 months is not enough. Evaluate and change your diet and daily activity for as long as 3 months when you get this food journal
Don't let your healthier-self wait any further. Get this Food and Exercise Journal today and start tracking for a better you