The Perfect Keto Dessert Cookbook: Foolproof, Quick & Easy Recipes that You'll Love to Cook and Eat (Hardcover)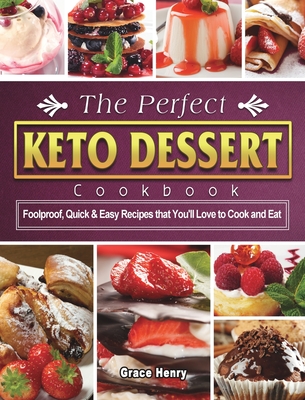 $35.99

Usually Ships in 1-5 Days
Description
---
Are you looking to lose weight and get healthier?
Would you like to start--and stay--on the Keto diet but can't seem to find the time?
Do you want a resource with mouthwatering, simple-to-make Keto recipes?
If your answer to any of these questions is YES, this is the absolute perfect book for you. Continue reading
If you want keto desserts that won't disappoint your family your guests but impress even the diehard carboholics, choose keto desserts. Are you looking for those low carb desserts that best fit a keto diet? This book has the best recipes that fit in perfectly with your macros; these are keto dessert recipes you can trust.
My book focuses on not only satisfying the sweet-tooth but also living a healthy lifestyle while indulging in amazing desserts while on a Keto Diet, I promise you that upon reading my book, you will have all the fundamental information needed to dive into the world of Ketogenic Diet and come out with a healthier physique
So, what are you waiting for? Don't miss out on your opportunity to get a huge amount of mouthwatering Ketogenic Dessert recipes while learning the tricks and trades of the diet at the same time