UCAT Study Guide: Self-study Preparation Coach (Paperback)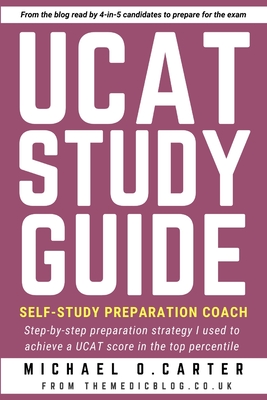 $14.99

Usually Ships in 1-5 Days
Description
---
The UCAT self-study preparation coach is a remarkably effective study guide that is revolutionising how top students everywhere prepare for the University Clinical Aptitude Test (UCAT and UCAT ANZ).
Pick up the self-study coach if one of the following relates to you:
① Not sure where to start with UCAT revision?
② Overwhelmed with the amount of advice online and losing motivation to study?
③ Practising loads of UCAT questions and seeing zero to little improvement?
What to Expect:
✔ Concise and easy to follow.
✔ Step-by-Step preparation guidance.
✔ In-depth analysis of the exam in a way that can be used to play the exam.
✔ Study exercises to reinforce key concepts taught in the guide.
✔ Practice questions provided by Medify to supplement guide.
Benefits using of this Guide:
✔ Study more effectively for the UCAT.
✔ Avoid mistakes made by most candidates.
✔ Develop an analytical approach to preparing for the exam.
✔ Learn and adopt strategies to boost learning and productivity.
✔ Learn and apply exam theory.