The Magical Tarot of the Golden Dawn: Divination, Meditation and High Magical Teachings (Paperback)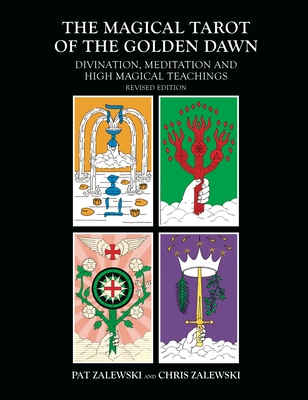 $45.00

Usually Ships in 1-5 Days
Description
---
The last word on the tarot of the Golden Dawn, this veritable encyclopedia covers every aspect of the cards.
 
The authors stress experimentation with the tarot, which is a mark of a vibrant magical system. The descriptions of each tarot card are very reliable and very complete. Of particular interest are the alchemical associations and the authors' work on the gematria or numerology of each card. For the first time a complete alchemical system is given for the whole deck. There is also a good deal of added astrological information and divinatory meanings and interpretations.
 
Several excellent suggestions for studying and meditating on the cards are provided by the authors. This book is a balanced combination of both historical and new material presented by the Zalewskis that stands firmly rooted in Golden Dawn teachings and ritual practice. There are many interesting new innovations in this book.
 
Fully illustrated by Golden Dawn member and professional artist, Skip Dudchous, this new 2019 edition has been completely re-edited and re-formatted for ease of reading. It will be an invaluable resource for those interested in the tarot of the Golden Dawn.  
About the Author
---
Pat Zalewski, born in Australia in 1948, has a Master of Philosophy in History and is the author of 12 books on the Golden Dawn. After travelling throughout SE Asia, Pat eventually settled in New Zealand. After reading and practicing the Golden Dawn for many years, he and Chris Zalewski met with members of the then recently closed Whare Ra temple in 1980. He then worked with artists Skip Dudchus and David Sledzinski on redrawing the Whare Ra deck for his book The Magical Tarot of the Golden Dawn. In 1999 Zalewski returned to Australia. In 2019 he started working with David Sledzinski to produce a coloured Gold Dawn Tarot deck.

Chris Zalewski has deep knowledge and skills in natural medicine and Western mysticism. She runs her own natural medicine practice and is also a successful professional tarot reader and astrologer. Christine is the author of Herbs in Magic and Alchemy and Enochian Chess of the Golden Dawn, and she coauthored The Equinox and Solstice Ceremonies of the Golden Dawn and Z5: Secret Teachings of the Golden Dawn.

John Michael Greer is the award-winning author of more than fifty books, including The Occult Book, The Druidry Handbook, The Celtic Golden Dawn, and Circles of Power: An Introduction to Hermetic Magic. An initiate in Freemasonry, the Hermetic Order of the Golden Dawn, and the Order of Bards, Ovates and Druids, Greer served as the Grand Archdruid of the Ancient Order of Druids in America (AODA) for twelve years. He lives in Rhode Island with his wife Sara. Greer is also the author of eleven fantasy and science fiction novels and ten nonfiction books on peak oil and the future of industrial society, and also blogs weekly on politics, magic, and the future at www.ecosophia.net.