Akarnae (The Medoran Chronicles #1) (Hardcover)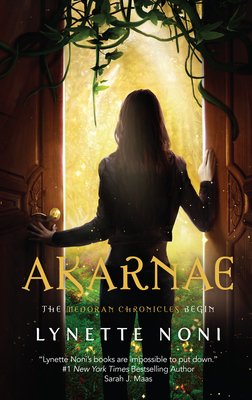 $17.99

Usually Ships in 1-5 Days
Other Books in Series
This is book number 1 in the The Medoran Chronicles series.
Description
---
With just one step, 16-year-old Alexandra Jennings's world changes—literally. Dreading her first day at a new school, Alex is stunned when she walks through a doorway and finds herself stranded in Medora, a fantasy world full of impossibilities. Desperate to return home, she learns that only one man can help her—but he's missing. While waiting for him to reappear, Alex attends Akarnae Academy, Medora's boarding school for teenagers with extraordinary gifts. She soon starts to enjoy her bizarre new world and the friends who embrace her as one of their own, but strange things are happening at Akarnae, and Alex can't ignore her fear that something unexpected—something sinister—is looming. An unwilling pawn in a deadly game, Alex's shoulders bear the crushing weight of an entire race's survival. Only she can save the Medorans, but what if doing so prevents her from ever returning home? Will Alex risk her entire world—and maybe even her life—to save Medora?
About the Author
---
Lynette Noni is the author of Whisper. 
Praise For…
---
"Lynette Noni is a marvelous and inventive storyteller, whose books are absolutely impossible to put down. I can't wait to see what she comes up with next!" —Sarah J. Maas, author, Throne of Glass and A Court of Thorns and Roses series

"Lynette Noni is a master at her craft. The Medoran Chronicles have richly developed characters, superb world-building that makes you feel like you're actually there, and stories that pack a punch, full of emotion and thrills. Highly recommended!" —James Dashner, author, The Maze Runner series

"Let me say right up front that Lynette Noni is a very talented writer. Her books tell stories that draw you in and refuse to let go. Her characters are memorable and quick to surprise. I cannot wait to see what she will do next." —Terry Brooks, author, The Shannara Chronicles

"Lynette Noni is a masterful storyteller. Her characters steal into your heart and won't let go!" —Maria V. Snyder, author, the Poison Study series

"Lynette Noni's compelling stories keep readers turning pages to the very end.'' —Juliet Marillier, author, the Sevenwaters series
 

"When Lynette Noni opens the door to another world, don't hesitate: jump in and enjoy." —Trudi Canavan, author, The Black Magician trilogy