The End-Of-Life Namaste Care Program for People with Dementia (Paperback)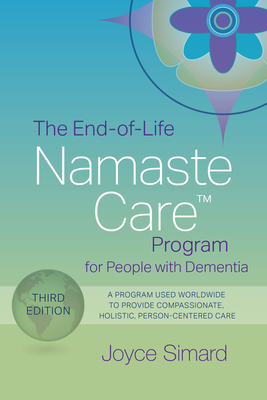 Description
---
Caring for people with advanced dementia presents unique challenges that the Namaste Care(TM) program addresses using simple, holistic practices. Through comforting and meaningful sensory-based experiences, this enlightened approach to care honors the enduring spirit of each person. It brings satisfaction both to people experiencing it and to those who care for them. Evocative scents, soothing music, and gentle massage are just part of this innovative program, which can be implemented with minimal resources and training and meets regulatory guidelines for person-centered activity programming for all stages of dementia. Step-by-step advice for staffing, budgeting, operating, and marketing the program is provided along with detailed information for creating a suitable setting for running a Namaste Care program. Recommended lists of nursing and activity supplies, suggested activities, and other valuable resources are also included.
Proven effective in skilled nursing facilities, assisted living memory care communities, and hospice organizations, this evidence-based approach has been implemented and validated around the world. Positive outcomes include improved resident comfort, engagement, and quality of life; increased family involvement; and strengthened staff morale. And the concepts of Namaste Care are flexible enough to be used with groups of residents or one-on-one with individuals. Embracing a loving-touch approach and focusing on the particular end-of-life needs of people with dementia, this program enables the care team to bring grace and dignity to those completing their dementia journey.
Completely revised Third Edition
This award-winning book includes full instructions for implementing a Namaste Care program plus new evidence and features:
Detailed descriptions of Namaste Care groups and individuals
Suggested adaptations for a variety of settings
Additional stories about creative uses and efficacy of Namaste Care
Increased scope of practice in the U.S., Australia, the U.K., Europe, and Singapore
In-depth description of the physical setting and supplies needed
Expanded discussion of death and dying
Updated research and references
About the Author
---
Joyce Simard, M.S.W., is a private geriatric consultant to skilled nursing centers, assisted living communities, and hospice organizations worldwide. She is also involved in research projects investigating the efforts of Namaste Care(TM) in Australia and the United Kingdom. She earned her bachelor of arts in sociology and social work from Ithaca College in New York and her master of social work from the University of Minnesota. She also serves as Adjunct Associate Professor at the School of Nursing and Midwifery, University of Western Sydney, Australia. In addition to the Namaste Care program, Simard has developed other programs for people with memory loss. The Memory Enhancement Program (MEP) is for people experiencing memory loss above and beyond what is normal for their age and education. Residents in independent living and assisted living communities as well as those who participate in adult day programs benefit from this unique program. The Club is a program for residents in nursing facilities and assisted living who have moderate memory loss. Its implementation has resulted in a decrease in anti-psychotic medications as well as a decline in resident falls and improved staff and resident satisfaction. Simard is the author of a children's book about aging and dementia, The Magic Tape Recorder (2007), which was published in several languages and is currently out of print. Simard is an internationally recognized speaker who has presented both to families of people with dementia and to healthcare professionals in the United States, Europe, Australia, and parts of Asia. As a keynote or featured speaker at professional conferences, she is known for bringing humor and a light touch to serious subjects, teaching through stories of real experiences from her 35 years in healthcare. She also provides in-service training on a variety of subjects, including hospice, bereavement, comfort care, and activity programs for people with all stages of dementia.