Color My Fro: A Natural Hair Coloring Book for Big Hair Lovers of All Ages (Paperback)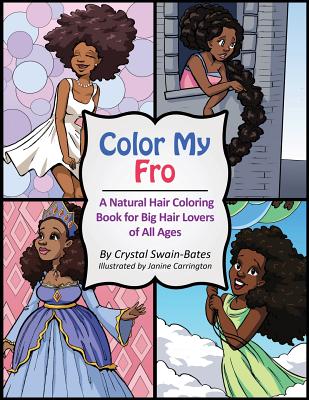 $6.99

Usually Ships in 1-5 Days
Description
---
In "Color My Fro", 31 big-haired fairies, mermaids, warriors, models, cheerleaders, and fierce divas grace the pages of this coloring book celebrating the beauty of black women and natural hair. At each turn of the page, a new natural hair inspired illustration greets you.
Fun for any occasion, "Color My Fro" is the perfect stocking stuffer for natural hair lovers of any age so grab your crayons, colored pencils, and your afro pick and get started
Looking for more books celebrating the beauty of black women and children with natural hair?

Check out Crystal Swain-Bates' other books, all of which are available on Amazon:

Children's Books:
"Big Hair, Don't Care" by Crystal Swain-Bates
"The Colorful Adventures of Zoe & Star" by Crystal Swain-Bates

Adult Books:
"How to Go Natural Without Going Broke" by Crystal Swain-Bates
About the Author
---
A native of Atlanta, GA, Crystal holds a Master's degree in International Affairs from Florida State University and is an avid world traveler. Crystal is an author and the owner of Goldest Karat Publishing, a boutique publisher of educational non-fiction titles, coloring books, and entertaining children's books aimed at African-American audiences. Goldest Karat's goal is to fill the diversity gap in traditional publishing by providing readers with high quality books featuring characters of African descent.