Cognitive Behavioral Therapy Made Simple: 10 Strategies for Managing Anxiety, Depression, Anger, Panic, and Worry (Paperback)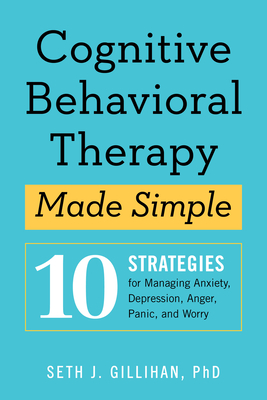 Description
---
Cognitive behavior therapy strategies to help you manage anxiety and depression, whether you struggle with an anxiety disorder or are just feeling uneasy in life.
Get lasting relief from anger, panic, stress, and other mood-related conditions by applying the principles of cognitive behavioral therapy to your daily life. From writing down your goals to addressing negative thought patterns, this accessible, easy-to-understand cognitive behavioral therapy book gives you everything you need to let the healing begin in one convenient CBT workbook. Soothe your mind, learn to grow as a person, overcome challenges, and boost your overall health and well-being.
Explore cognitive behavior therapy in this workbook through:
10 SOOTHING STRATEGIES: Discover proven CBT principles, like setting goals, maintaining mindfulness, and more.
POSITIVE SELF-EVALUATIONS: Track your progress and reflect on what you've learned along the way.
AN EXTRA TOOL FOR THERAPY: Use this workbook in tandem with clinical cognitive behavioral therapy or post-therapy.
Progress toward healing with a simplified approach to cognitive behavior therapy.
About the Author
---
SETH J. GILLIHAN is a licensed psychologist and Clinical Assistant Professor of Psychology in the Psychiatry Department at the University of Pennsylvania. He has a clinical practice in Haverford, Pennsylvania, where he specializes in cognitive behavioral therapy and mindfulness-based interventions.
Praise For…
---
"Cognitive Behavior Therapy Made Simple uses collaborative, empowering and straightforward language, while bestowing the tenets of Cognitive Behavior Therapy on to the reader. Seth Gillihan's finesse and knowledge of CBT allows for enhancement of skills and improvement of common issues. This volume is a must read for anyone who has experienced psychological problems, and that includes all of us."—Aaron T. Beck, M.D, University Professor Emeritus of Psychiatry, University of Pennsylvania

"Cognitive Behavioral Therapy Made Simple sets a new standard for CBT resources. Seth Gillihan is a remarkable writer, who notes that simple changes often have the biggest impact, while shedding light on the subtleties of implementation, adherence, and data tracking to ensure that readers get the most from their efforts. Readers will appreciate the pragmatic approach, straightforward worksheets, and step-by-step guidelines. Self-improvement enthusiasts and current therapy clients alike will value the numerous and powerful, research-based strategies to address emotional distress and undesired patterns of behavior."—Joel Minden, PhD. Director, Chico Center for Cognitive Behavior Therapy

"Cognitive Behavioral Therapy Made Simple is an easy-to-read manual that can help you to lead a healthier and happier life. With his holistic approach to wellbeing, Dr. Gillihan expertly guides you to overcome barriers and move towards your valued goals, whether related to your personal, work or home life. I was moved, inspired, entertained, and educated by this book. Cognitive Behavioral Therapy Made Simple brings the best out of you so that you're better equipped to manage life's challenges. Absolutely everyone could benefit from this book!"—Dr. Aria, Behavior Change Psychologist and Creator of the FIT Method (dr-aria.com)

"Cognitive Behavioral Therapy Made Simple is a wonderful resource for individuals coping with anxiety and mood problems, and the clinicians who work with them. Dr. Gillihan skillfully incorporates mindfulness and acceptance strategies with traditional CBT strategies in a clear and easy to understand manner. There are opportunities throughout the book to practice a wide variety of strategies and techniques. I highly recommend this book to clients and clinicians."—Joanna Robin, PhD, co-author of The OCD Workbook for Kids

"In Cognitive Behavioral Therapy Made Simple, Seth Gillihan combines CBT and mindfulness with simultaneous elegance and simplicity. Teaching CBT with three complementary pillars, Gillihan shows you how to examine your thoughts (cognitive), your actions (behaviors), and your ability to be fully present (mindful)—couched in the easy mnemonic, "Think, Act, Be." Anyone who has suffered from a mood disorder, anxiety, or intense anger will do well to read this book. It's a gem for patients and clinicians alike."—Lucy Faulconbridge PhD, Diplomate, Academy of Cognitive Therapy