Rattlebone (Paperback)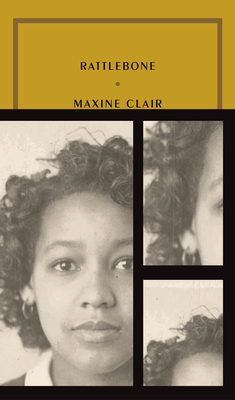 $18.00

Usually Ships in 1-5 Days
Description
---
Too long unavailable, this luminous classic of small-town life in the segregated 1950s has "magic dust sprinkled over each and every page" (Veronica Chambers, New York Times Book Review).

Irene Wilson knows that a "no-name invisible something" has settled over her parents' marriage and suspects her glamorous new teacher is to blame. Irene is not alone in her suspicions. In Rattlebone, a small Black town outside Kansas City in the segregated 1950s, secrets are hard to keep and growing up is a community affair.

As Irene is initiated into adult passion and loss, her family story takes its place in a tightly woven tapestry of neighbors whose griefs and joys are as vivid as her own. Rattlebone is a one-of-a-kind triumph of American fiction, one that captures an entire world through the eyes of an unforgettable heroine.
About the Author
---
Maxine Clair was born and raised in Kansas City, Kansas. She is the author of the poetry collection Coping with Gravity and the novel The October Suite. On its first publication, in 1994, Rattlebone received both the Literary Award from the Black Caucus of the American Library Association and the Chicago Tribune Heartland Prize. Clair is a professor emerita at George Washington University.
Praise For…
---
"A small, perfectly formed classic . . . Clair is an exquisitely empathic writer, and imbues every page with poetry."
— Nick Duerden

"I read Rattlebone when it was first published in 1994. I loved it then, and all these years later I love it more. Now I understand how rare it is to find a book that contains such indelible characters, and such enormity of heart. Welcome back, Rattlebone, may you get all the love and attention you have long deserved."
— Ann Patchett

"Each skillful plot twist, each new, wonderful character has the effect of a sip of literary love potion. There is magic dust sprinkled over each and every page . . . Maxine Clair has offered us hope without rhetoric. She has told a story of struggle with a quietly triumphant end that says, sometimes, even in places called Rattlebone, black girls get to live happily ever after too."
— Veronica Chambers

"Clair's debut short-story collection, 11 interlocked tales set in an African American outskirt of Kansas City, Kans., in the 1950s, launches her toward the front ranks of contemporary fiction . . . An utterly addictive collection by a writer to watch."
— Publishers Weekly, Starred Review

"Strong, melodic, and honest . . . We need stories like this to replenish us."
— Terry McMillan

"[An] overlooked coming-of-age classic. Empathic and rich in human detail, this 1994 novel of Black life in 1950s Kansas deserves to reach a wider audience. [A] wonderful novel . . . Clair is an exquisitely empathic writer, and imbues every page with poetry . . . It deserves to be widely read, a set text, cherished."
— Nick Duerden

"Maxine Clair's coming-of-age novel in stories, Rattlebone, is one of those books that deserves to be brought out of the shadows of African American literature and back into the spotlight it so rightly deserves . . . Anyone who reads Rattlebone will see its relationship with other important works of African American literature published in the same year, like Edwidge Danticat's Breath, Eyes, Memory or Alice Walker's The Complete Stories . . . It is through Blackness that these writers also say something universal . . . to begin to see the Black experience not as "other" but as one with which any reader can seek to connect . . . [Clair] has written a book that will find a special place in the hearts of all who read it."
— Ralph Eubanks

"Told in a style that is memorable for its ability to shift tones and to capture, in rich and controlled language, new levels of consciousness . . . Clair consistently attains the poetry organic to everyday speech while avoiding the quaint, the forced and the patronizing."
— Michael Parker

"This brilliant debut belongs on the same shelf as V. S. Naipaul's Miguel Street and Jamaica Kincaid's Annie John . . . Rattlebone is enchanting, sexy, wise, and richly imagined."
— Howard Norman