Heaven and Earth: A Novel (Hardcover)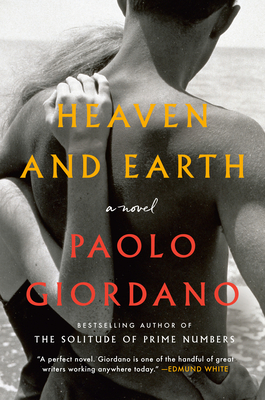 $28.00
Email or call for price.
Description
---

A powerful, epic novel of four friends as they grapple with desire, youth, death, and faith in a sweeping story by the international bestselling author of The Solitude of Prime Numbers

"Perfect, moving, honest, brilliant, with characters who feel like old friends."
—Andrew Sean Greer, Pulitzer Prize-winning author of Less    

"Heaven and Earth is a stunning achievement and confirms him as an electrifying presence in contemporary fiction."
—André Aciman, author of Call Me by Your Name and Find Me   

Every summer Teresa follows her father to his childhood home in Puglia, down in the heel of Italy, a land of relentless, shimmering heat, centuries-old olive groves and families who have lived there for generations. She spends long afternoons enveloped in a sunstruck stupor, reading her grandmother's paperbacks.

Everything changes the summer she meets the three boys who live on the farm next door: Nicola, Tommaso and Bern—the man Teresa will love for the rest of her life. Raised like brothers on a farm that feels to Teresa almost suspended in time, the three boys share a complex, intimate, and seemingly unassailable bond.

But no bond is unbreakable and no summer truly endless, as Teresa soon discovers.

Because there is resentment underneath the surface of that strange brotherhood, a twisted kind of love that protects a dark secret. And when Bern—the enigmatic, restless gravitational center of the group—commits a brutal act of revenge, not even a final pilgrimage to the edge of the world will be enough to bring back those perfect, golden hours in the shadow of the olive trees.

An unforgettable story of enduring love, the bonds between men, and the all-too-human search for meaning, Heaven and Earth is Paolo Giordano at his best: an author capable of unveiling the depths of the human soul, who has now given us the old-fashioned pleasure of a big, sprawling novel in which to lose ourselves.
About the Author
---
Paolo Giordano is also the author of the critically acclaimed Like Family and The Human Body, and the international bestseller The Solitude of Prime Numbers, which has been translated into more than forty languages, as well as How Contagion Works, about the COVID-19 pandemic. Heaven and Earth is his latest novel. Giordano has a PhD in particle physics and is now a full-time writer. He lives in Italy.

Anne Milano Appel, PhD, has been awarded the Italian Prose in Translation Award (2015), the John Florio Prize for Italian translation (2013), and the Northern California Book Award for Translation, Fiction (2013, 2014). She has translated works by Claudio Magris, Paolo Giordano, Giovanni Arpino, and numerous others.
Praise For…
---
Praise for Heaven and Earth:

"[An] extraordinary novel. . . Lush regional details, indelible characters, and a riveting story line make this an overwhelmingly emotional read. Giordano's captivating tale is a magnificent testament to the lingering impact of a charged romance." 
—Publishers Weekly (starred review)   

"[A] bighearted novel… Giordano is a fluid, expansive writer (smoothly translated by Appel): The chapters flow effortlessly back and forth in time, pulling us deeper into the story of Teresa and Bern's great love. The Italian landscape shimmers with their longing."
—The New York Times Book Review

"With rich descriptions and engrossing, memorable writing, Italian novelist Giordano explores love, faith, and lifelong bonds." 
—Booklist

"What begins as a story of summer romance transforms into something more ambitious—an account of eco-terrorism—while also posing questions about the nature of passionate attachment."
—The New Yorker

"As he did in his Premio Strega-winning debut, The Solitude of Prime Numbers, Giordano deftly mines the vast, mysterious territory of childhood, illuminating how our first relationships and loves inform the adults we become. A big, delicious mash-up of a novel blending the vividly drawn friendships of Elena Ferrante's Neapolitan stories with the urgency of Richard Powers's acts of ecoterrorism in The Overstory."
—Library Journal

"Ever since the publication of The Solitude of Prime Numbers, Paolo Giordano has stood at the forefront of international literature. His new novel Heaven and Earth is a stunning achievement and confirms him as an electrifying presence in contemporary fiction." 
—André Aciman, author of Call Me by Your Name and Find Me

"Perfect, moving, honest, brilliant, with characters who feel like old friends." 
—Andrew Sean Greer, Pulitzer Prize-winning author of Less

"This is at once a lush picture of growing up in the Italian countryside, a highly original exploration of Christianity and the transmigration of souls, and a deeply affecting story of friendships under the strain of time and tragedy. Giordano's best book yet." 
—Dave Eggers, author of The Captain and the Glory
 
"Magnificent, heart-wrenching, and utterly compelling. Heaven and Earth is the perfect novel. And I'm not saying this lightly. Perfect. Perfect. Perfect." 
—Andrea Wulf, Costa-winning author of The Invention of Nature     

"An intense novel about passions and reasons, unbreakable bonds and reckless excursions. Giordano is a master storyteller."
—Yiyun Li, author of Where Reasons End 
          
"A perfect novel. Giordano is one of the handful of great writers working anywhere today."
—Edmund White
 
"A novel as ferocious as youth and as pure as a utopia." 
—Paolo Cognetti, #1 internationally bestselling author of The Eight Mountains
 
"Heaven and Earth is not just a magnificent novel – it's an act of faith in literature and in the rousing power of storytelling, an ode to the unknowable mystery that is the human heart. Novels like this are a rare find: you won't be able to forget it." 
—Elena Varvello, internationally bestselling author of Can You Hear Me?
 
"A brave novel."
—Roberto Saviano, internationally bestselling author of ZeroZeroZero