Persuasion Explained (Paperback)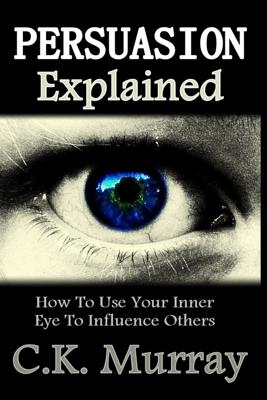 $8.95

Usually Ships in 1-5 Days
Description
---
Awaken Your Inner Eye to the Power of Persuasion The subconscious mind is an incredibly powerful thing. And using that power is easier than ever thought...Everywhere we go in life, influence is important. No matter who we are or what we seek, the ability to persuade and influence others is critical. Much of success hinges on the power of persuasion. If you can become a master of influencing human behavior, your life will change. Your charisma will grow, your communication skills will deepen, and your general sphere of influence with expand. Persuasive communication is about knowing how to influence people quickly and subtly. It's about knowing what to say and how to say it; it's about mind control & transpersonal power. And that power can mean
everything.
"Persuasion Explained" is a quick guide that shows you how to harness the psychology of influence. Social influence has never been so fun...
Are you tired of following the lead of others? Do you find that you lack the power to influence others? Are you sick of falling victim to the manipulation of others? Do you want to improve your communication skills and your charisma? Are you ready to master the art of mind control?
Ready, once and for all, to tap into the power of your subconscious mind?
Persuasion Explained
is your definitive guide to overcoming your insecurities and allowing your inner eye to take control. If you haven't heard of the inner eye, or find yourself skeptical of the psychology of influence, you're in for an awakening This primer on social influence will show you how to
step up and act
The inner eye has been embraced by many religions and sects for thousands of years. Not only is it a powerful tool for influencing human behavior, but it is also a fundamental part of our subconscious mind. Connected to the pineal gland in our brains, the inner eye, or 'pineal eye, ' has been linked to a variety of basic and advanced cognitive functions. In fact, research shows that the 'pineal eye' releases huge doses of the chemical DMT when we're born and die. The good news is, you can gain
full control
of this vital asset. You can learn to read people, to detect changes in behavior and thought, to literally see the energy that a given individual emits. You can learn to detect, project and model the charisma and communication skills of others. You can learn to use verbal and non-verbal communication for persuasion, influence,
and
manipulation. So what are you waiting for? 'Persuasion Explained' answers such questions as...
What is the inner eye?
Why is the inner eye important?
What are the benefits of the inner eye?
How can we open the inner eye?
What foods & supplements are good for the inner eye?
What exercises are good for the inner eye?
How does the inner eye extend influence?
How do we use our subconscious mind to persuade others?
And more...
You will also learn...
How to use persuasive communication for your career
Influencing human behavior through body language
How to channel mind control
How to influence others by merely looking
The key principles of social influence
Proven techniques for powering your inner eye
Balancing your subconscious and conscious mind
And even more
GRAB YOUR COPY TODAY.